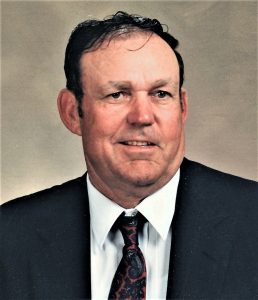 Jessie Lenard Baldridge was born the son of George Baldridge and Orphie Jones Baldridge on September 13, 1936, in Sharp County, Arkansas and departed this life December 14, 2018, at his home in Mammoth Spring, Arkansas, at the age of 82 years.
He was united in marriage to Erma Lee Price on August 25, 1956, in Sharp County, Arkansas. They were married for sixty-two loving and devoted years.
He is survived by his wife, Erma Lee Baldridge, of the home in Mammoth Spring, Arkansas; three children, David Len Baldridge and Deb Childers of Mammoth Spring, Arkansas, Emma Sue Schuerenberg of Mammoth Spring, Arkansas and Sharon Kay Wrenfrow and husband, John, of Myrtle, Missouri; one brother, Omer Lee Baldridge of Wirth, Arkansas; eight grandchildren, Davina, Alan, Jesse, Donnetta, Jonathan, Jessica, Jennifer and Trey; nine great grandchildren; many nieces and nephews; other relatives; and countless friends.
He was preceded in death by his parents, George and Orphie Baldridge; three brothers, Ermin, Willard, and Elvern Baldridge; three sisters, Roxie Houston, Rhoda Byers, and Nola Angotti; and one son-in-law, Herb Schuerenberg.
Lenard was a timber contractor for many years. As a young man he worked with his brothers locally buying tracts of timber and at one time operated a sawmill. He was skilled with his chainsaw and enjoyed working with the logging team. He and the gentleman who worked for him became lifelong friends. Later he worked with his son, David. Lenard worked hard and instilled a strong work ethic in his children. Through the years Lenard also operated a cattle farm.
After he retired from logging, Lenard and Erma bought a store in Hardy, Arkansas called Treasure Chest, which they were operating up to Lenard's passing. At the store he sold cedar, walnut and many exotic woods, while Erma sold glass and antiques. He loved meeting and talking with the public as he sold his merchandise. His many customers became lifelong friends and enjoyed stopping just to visit with him.
He enjoyed woodworking and made cutting boards and birdhouses to sell at the store. He often made items as gifts, including wagon wheel picnic tables and custom mail boxes for his children. Lenard was a knowledgeable coin collector and enjoyed bargaining with customers.
Lenard was a Christian and attended the State Line Pentecostal Church. During his final illness, he was at peace with God and stated he was ready to go.
Lenard will be remembered for his kind and gentle spirit. He loved people, whether a stranger or an old friend. He was especially close to his mother, his brothers, his sisters and their children. He always attended family reunions and made sure the family cemetery was cared for.
He enjoyed traveling with his wife and children. They traveled at least once each year. Even in poor health he traveled with his wife and daughters to visit his son on the pipeline in West Virginia in September of 2018. In early years, the family drove West to Colorado, Wyoming and California. He also cruised with his family to Alaska and flew to Niagara Falls in Canada and visited New York City and the Statue of Liberty and Washington D.C. He was the happiest when he was with his family.
He was a devoted and loving husband for sixty-two years. He and Erma spent their lives working together as a team. She was the light of his life and always answered him to the name of "honey". He was also a loving father and grandfather. He will truly be missed by all who had the privilege of knowing him.
Funeral services will be held Tuesday, December 18, 2018 at 10:00 AM at Carter Funeral Home Chapel in Thayer with Brother Wayne Hurst and Brother Bobby Ryan officiating.
The family will receive friends at the Carter Funeral Home Chapel on Monday evening, 6-8 PM.
Interment will be in Thayer Cemetery with services under the direction of Carter Funeral Home , Inc in Thayer.