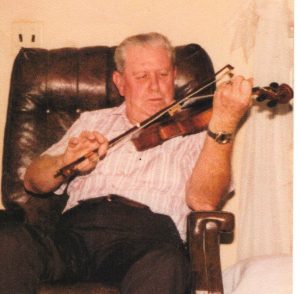 Lehman Ehrhardt was born the son of Arthur Thomas Ehrhardt and Vernie Lou Mary James Ehrhardt on December 27, 1928, Randolph County, Arkansas and died July 28, 2017 in Springfield, Missouri, at the age of 88 years.
He was united in marriage on May 20, 1948, in Alton, Missouri to JoRheta Ehrhardt who preceded him in death on April 8, 2014.
He is survived by one daughter, Vicky Lynn Rhoads and husband, Steve of Clever, Missouri; seven grandchildren; eight great grandchildren; one great-great grandchild; one sister, Pat Fisher of West Plains, Missouri; one son-in-law, Ronnie Mills of St. Peters, Missouri; one daughter-in-law, Rose Ehrhardt of Walnut Ridge, Arkansas; several nieces, nephews; other relatives and many friends.
He was preceded in death by his parents, Arthur and Vernie Ehrhardt; his wife, JoRheta Ehrhardt; one son, Cleatus Ehrhardt; one daughter, Brenda Mills; one brother, Millard Ehrhardt and five sisters, Audrey Ehrhardt, Dorthy Smith, Lossie Evans, Geneva Ehrhardt and Doris Deckard.
Lehman was a lifelong resident of Myrtle, Missouri. He was a well-known logger in the area and continued to work in this business until his retirement.
He was a Christian and was of the Church of Christ faith.
Lehman will be remembered as a gifted fiddle player and enjoyed getting together with friends to play music.
Lehman was deeply devoted to his family. He enjoyed family gatherings, conversation and JoRheta's home cooked meals, which span a total of sixty-six years. He will truly be missed by all that knew him.
Funeral services for Lehman Ehrhardt will be held, Tuesday, August 1, 2017 at 11:00 AM at the Carter Funeral Home Chapel in Thayer.
The family will receive friends at the funeral home on Monday evening, July 31, 2017 from 6-8 PM.
Burial will be in Myrtle Cemetery with services under the direction of Carter Funeral Home, Inc in Thayer.