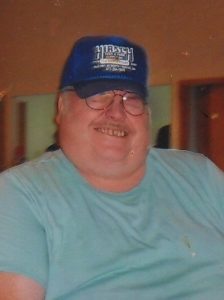 George Keith Teichmer was born in Pawnee Oklahoma, the son of Bill Teichmer and Kathryn Posten Teichmer on May 10, 1964 and departed this life on October 15, 2019 at South Bend Nursing Home in Horseshoe Bend, Arkansas, at the age of 55 years.
He was united in marriage to Suzanna Terrabone.
He is survived by one sister, Kathryn Bowers of Mammoth Spring, Arkansas; three brothers, Terry Brown of Mammoth Spring, Arkansas, Robert Brown of Thayer, Missouri and Ed Brown of Thayer, Missouri; two Aunts, Nancy Wilson and Clara Kennedy; several nieces and nephews including special niece Autumn Orth and special nephew Alex Ulrich.
He was preceded in death by his parents, Bill Teichmer and Kathryn Brown; step-father, Joe Brown; sister, Luanne Brown; maternal grandparents, George and Lottie Posten; and  his paternal grandparents.
Keith was a graduate of Mammoth Spring High School. He liked going to tractor shows with his step-dad, Joe and enjoyed watching and collecting all kinds of movies. He will be missed by his family and many friends.
Memorial graveside services will be held, Thursday, October 24, 2019 at 2:00 PM at the Rose Hill Cemetery, near Thayer, with Pastor Aaron Holman officiating under the direction of Carter Funeral Home, Inc in Thayer.