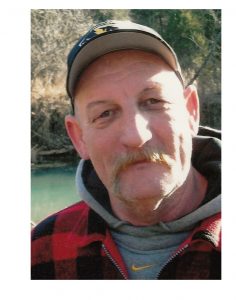 Funeral services for John Wayne "Bubba" Coleman, 59, West Plains, Missouri, formerly of Thayer, Missouri, will be held at 10:00 a.m., Saturday, March 19, 2016, at the Carter Funeral Home Chapel, Thayer, Mo with Sam Cobb officiating under the direction of Carter Funeral Home, Inc., West Plains.
He was born the son of the late Wilford Wayne Coleman and Gertrude Elizabeth Sanders Coleman, on May 15, 1956 in West Plains, Missouri and died March 15, 2016 in West Plains, Missouri.
He is survived by two sisters, Oretha Lee Cobb and husband Ron, West Plains, and Pamela Studyvin, West Plains, Missouri; two nephews, John Cobb and wife Juliet, West Plains and Sam Cobb and wife Rachel, West Plains; two nieces, Rebekah Studyvin, Fairway, Kansas and Sarah Studyvin, Montclaire, New Jersey; ten great-grand nieces and nephews, Andrew, Patrick, and Daniel Cobb; Reed, Brooks, Jane, Blythe, Graham, Tess, and Claire Cobb; several aunts, uncles, and cousins, and special friends, Allen, Billy and Lonnie Deckard.
He was preceded in death by his parents Wilford Wayne Coleman and Gertrude Elizabeth Sanders Coleman.
Bubba graduated from Thayer High School with the class of 1974. He also was a long time Mason.
Bubba loved the outdoors and especially enjoyed hunting and fishing. When he wasn't on a camping trip on the Spring River or in the Mark Twain National Forest, you could usually find him grilling on his back deck. An avid sports fan, Bubba was usually listening to a game on the radio, and watching a game on the television all at the same time. He loved cheering for the Thayer Bobcats and Mizzou Tigers, but he took the most pride in watching his great-nephews play for the Zizzers.
In his spare time, Bubba enjoyed cooking, reading, and watching movies. He could never resist watching "The Duke" in an old western. Bubba was always adding to his collection of John Wayne memorabilla, and he even had a John Wayne tattoo.
Anyone who knew Bubba also knew that he could never pass up the opportunity to play a good practical joke. Bubba never hesitated to remind his two sisters that he was the baby and should be spoiled!
Above all, Bubba found the greatest joy in taking care of his family and friends. He lovingly helped everyone around him with whatever needed to be done. There was no better handyman, dog sitter, mechanic, mover, or landscaper than Bubba.
Contributions may be made to the Thayer Public Library at 121 North Second St., Thayer, Missouri 76791, or the American Cancer Society at 3322 South Campbell Ave., #P, Springfield, MO 65807.
Burial will be in Thayer Cemetery under the direction of Carter Funeral Home, Inc., West Plains.