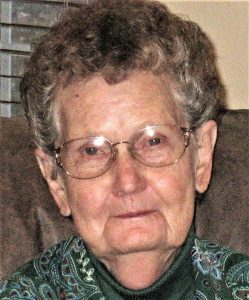 Joan Johnson was born in Alton, Missouri, the daughter of Charles Fleet Lance and Mattie Cockman Lance on April 12, 1927, and departed this life on September 29, 2018, in Kansas City, Missouri, at the age of 91 years.
Joan was married to Irvin Johnson on November 19, 1948, in Grandview, Missouri. He preceded her in death on May 7, 1971.
She is survived by one son, Gary W. Johnson and wife, Anita, of Bolivar, Missouri; one daughter, Brenda Loftus of Kansas City, Missouri; three grandchildren, Shana Loftus, Sheri Bennett and husband, Austin, and Kristy Watts and husband, Eric, all of Kansas City, Missouri; and two great grandchildren, Alexander and Kellen Watts; other relatives and a host of friends.
She was preceded in death by her husband, Irvin Johnson; parents, Charles Fleet and Mattie Lance; and several brothers and sisters.
Joan spent many years as a counselor at the Missouri Job Service in Kansas City, Missouri, where she helped people who needed occupational guidance.
Joan was a Christian and of the Southern Baptist faith.
She loved watching television, especially game shows and baseball games.
She will be remembered as deeply devoted to her family, a good friend and neighbor. Joan will truly be missed by all that knew her.
Graveside services will be held Thursday, October 4, 2018, at 1:00 PM in Garfield Cemetery located near Couch, Missouri, with Brother Aaron Allen officiating.
In lieu of flowers, donations in Joan's memory can be made to the American Heart Association and left at the funeral home.
Arrangements are under the direction of Carter Funeral Home, Inc. in Thayer, Missouri.