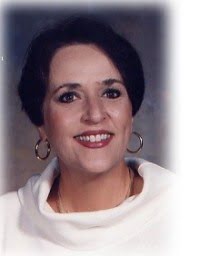 Jo-Carroll McCullough was born the daughter of Ted L. Sullivan and Donaleane Shelton Sullivan on June 20, 1949 in Jonesboro, Arkansas and departed this life on August 25, 2011 in Thayer, Missouri at the age of 62 years.
She was united in marriage July 7, 1968 in Springfield, Missouri to Charles McCullough.
She is survived by her husband, Charles McCullough of the home in Thayer, Missouri; two daughters, Jennifer McCullough-Kinley and husband, Dwayne of St. Peters, Missouri and Allison Martin and husband, Scott of Nashville, Tennessee; one son, Warren McCullough of Little Rock, Arkansas; two grandchildren, Jack and Megan Martin of Nashville, Tennessee; one unborn grandson, baby boy Kinley; one sister, Geraldine Kellogg; other relatives and a host of friends.
She was preceded in death by her parents, Ted and Donaleane Sullivan.
Jo-Carroll earned her Bachelor of Science Degree in Education from Arkansas State University and was a retired Speech and Drama teacher. She enjoyed teaching and was known for her dedication to her students.
She was of the United Methodist faith and will be remembered as a devoted homemaker, wife, mother, grandmother and a loyal friend. She will truly be missed by all who knew and loved her.
Funeral services were Sunday, August 28, 2011 at 2:00 PM in the Thayer High School Gymnasium. Burial was in Thayer Cemetery with services under the direction of Carter Funeral Home, Inc. of Thayer.
Memorial contributions may be made to the Jo-Carroll McCullough Scholarship Fund at the Bank of Thayer.