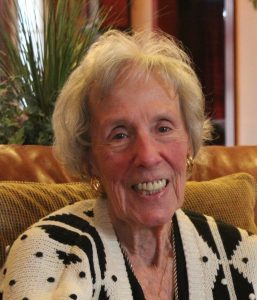 Jean Bohrer Davidson (Age 91) died on July 21, 2016 in her beloved hometown of West Plains, Missouri.
A native of West Plains, MO she was born on June 10th, 1925 the daughter of Charles R. Bohrer and
Linnie Arnold Bohrer.
She graduated from West Plains High School with the class of 1943 and was always proud to be a Zizzer. She graduated magna cum laude with a bachelor degree from Rollins College where she was a member of the Pi Beta Phi Sorority. She received her Masters Degree in Education from Drury University and taught Senior English at West Plains High School for 20 years. She took pride in her own self-proclaimed nickname of "Mean Jean". Many of her students returned to visit her after attending college to thank her for being "Mean Jean" by preparing them for the challenges of college English.
She was a member of First United Methodist Church where she played the organ for 16 years. She was a "50 Year" member of Chapter CM of the P.E.O. Sisterhood. She enjoyed serving as a member of the Ozark Public Television Board of Directors for a number of years.
Playing bridge, playing tennis, going to professional tennis matches, and traveling were the joys of her life. For a number of years after retiring she and her husband, Boze, traveled and made friends all over the world. Her advice was always that "if you get a chance to go somewhere, go".
She was preceded in death by her parents, her first husband, John L. Brown, Charleston, South Carolina, husband Carrick "Boze" Davidson, brother Dr. Charles A. Bohrer, and sister Judith Bohrer Minderman.
Survivors include her sons John L. Davidson, of St. Louis, M0, wife Diane; Richard J. "Dick" Davidson, West Plains, wife Nancy, Charles Carrick Brooke-Davidson, Wimberley, TX, wife Jennifer; grandchildren Richard C. Davidson, Lori Davidson Dimun, husband Ross, Linnie Davidson, Anne Davidson, Tradd Davidson, wife Stephanie, Emma Brooke-Davidson, and Kate Brooke Davidson; greatgrandchildren Savannah Jean, Harper Anne, and Charlie Davidson; Sister-in-law Doris S. Bohrer; brother-in-law Dick Minderman; nephews Frank C. James and Jason P. Bohrer; several great nieces and nephews; and longtime family friend Matt Negri, St. Louis, MO.
Visitation will be from 6 to 8 PM at Carter Funeral Home on Wednesday, July 27th. A private family memorial service will be held at a later date. Memorial donations made be made to the Chapter CM of the P.E.O. scholarship fund or the West Plains Public Library.