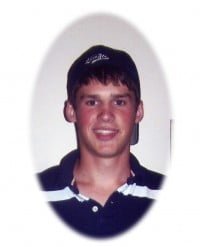 Jacob Lynn Bearden, the son of Tammy Taylor Bearden was born on June 2, 1990 in Jonesboro, Arkansas and departed this life on October 1, 2011 in Mount Vernon, Missouri at the age of 21 years.
He is survived by his mother, Tammy Bearden of the home in Myrtle, Missouri; one sister, Brittany Bearden of Myrtle, Missouri; maternal grandparents, Bobby Joe and Linda Wicker of Myrtle, Missouri; maternal great grandmother, Lena Johnson of Myrtle, Missouri; paternal great grandparents, Jack and Geneva Bearden of Brookland, Arkansas; one aunt, Shelly Wicker and husband Dewayne, of Jonesboro, Arkansas; special cousins, Jarrod and Courtney Wicker of Jonesboro, Arkansas; five great aunts and uncles, Richard McGhee, Darrell McGhee and wife, Alice and Dortheta Young and husband, Todd; other relatives and many friends.
He was preceded in death by his maternal great grandfather, Gene McGhee and cousin, Brian McGhee.
Jacob was a graduate of Couch High School, as a member of the class of 2008. He was a deck-hand on the AEP Riverboat for several months but returned to his home and job as assistant manager of Steve's Alignment in Mammoth Spring, Arkansas.
Jacob enjoyed hunting, fishing, canoeing, driving his trucks, motorcycles, four-wheelers, riding his horse and most of all, spending time with his family and friends.
He was of the Church of Christ faith and will be remembered as a loving son, grandson, brother, nephew, cousin and a loyal friend. He will truly be missed by all who knew and loved him.
Graveside services will be held Monday, October 3, 2011 at 3:00 PM at Jeff Cemetery with Jake Lawrence officiating. The family will receive friends from 1:00 until 2:30 PM at the Carter Funeral Home Chapel in Thayer. Burial will be in Jeff Cemetery under the direction of Carter Funeral Home, Inc. in Thayer.