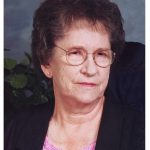 Iva Jean Williams, 85, West Plains, Missouri, died November 6, 2011 at 4:00 a.m. at her home in West Plains.
Graveside services will be held Wednesday, November 9, 2011 at 10:00 a.m. at Howell Memorial Park Cemetery, Howell County, Missouri, under the direction of Carter Funeral Home, Inc., West Plains.
Family visitation will be held Tuesday, November 8, 2011 from 7 to 9 p.m. at Carter Funeral Home,Inc., West Plains.
Iva Jean (Hammond) Williams was born August 15, 1926 at Sturkie, Arkansas, the daughter of the late William Simpson and Roxie Mae (Workman) Hammond.
She received her education in the Viola, Arkansas Schools.
She was married to the late James Wesley Falwell, at Salem, Arkansas on December 13, 1945.
There are two children surviving, Wesley Scott Falwell and wife, Lorie, and Jeannie Sue Green of West Plains; two grandchildren, Jason Falwell and Rachel Ledbetter, and husband, Adam, both of West Plains; one great grandson, Dawson Ledbetter and one great granddaughter, Cheyenne Ledbetter, both of West Plains.
Iva Jean was married to the late Harold G. Williams on November 8, 1994. Surviving are one sister, Maxine Hall, Salem, Arkansas, and one brother Billy Jack Hammond and wife, Judy, of West Plains; several nieces and nephews also survive.
Preceding her in death are Abe Hammond, wife, Alma; Lorene Mobley; Lester D. Hammond; Hester Hammond (infant twin); one infant (at birth); Roy Laverne (Toney) Hammond; her parents and husband. She was a member of the Faith Assembly of God Church in West Plains for thirty-five years.