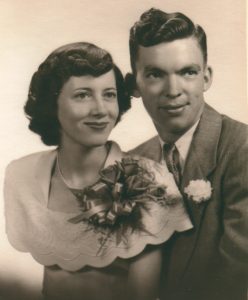 Imogene Iris Porter was born the daughter of John Cyrus Baty and Mary Atchley Baty on November 20,1927, in Bendavis, Missouri, and departed this life June 10, 2018, in West Plains, Missouri, at the age of 90 years.
She was united in marriage on August 26, 1950, at Springfield, Missouri, to J. Lawrence Porter. They were married over sixty-seven years.
She is survived by her husband, J. Lawrence Porter of the home in Thayer, Missouri; two children, Jamie Read and husband, Vernon of Portland, Oregon, and Myron Porter and wife, Rebecca of Tigard, Oregon; six brothers and sisters, Kermit Baty and wife, Dixie of Mt. Vernon, Missouri, Mary Jo Temple of Cherryvale, Kansas, Johnnie Lou Mahan of Eminence, Missouri, Kay Crisp and husband, Lonnie, Carolyn Pierce and husband, Delbert and Larry Baty and wife, Debbie, all of Bendavis, Missouri; three grandchildren, Gareth Porter of McMinnville Oregon, Blake Porter of Everett, Washington, and Micah Read of Portland, Oregon; one step-granddaughter, Karen Read of Portland, Oregon; one great-grandchild, Lance Porter of Tigard, Oregon; many nieces and nephews; other relatives, and a host of friends.
She was preceded in death by her parents; nine brothers and sisters, Bonnie Maxwell, Wilma Campbell, Bertie Baty, Hazel Hayes, Eugene Baty, Murlin Baty, Lowell Baty, Montie Baty and Dwyane Baty; and one grandson, Zachary Porter.
Imogene taught in a one-room schoolhouse at Racket Ridge in Texas County before teaching second and third grade in Thayer, Koshkonong and Creve Couer, Illinois. After her teaching career, she joined Lawrence in businesses at Thayer and Yuma, Arizona.
She was a member of the First Baptist Church in Thayer and taught Sunday School for many years. She loved to study the Bible and memorized large sections of the Bible. She had a strong belief that God would always take care of her.
Imogene was an impressively kind lady and always took care of little old ladies. She also volunteered at Shady Oaks Health Care for many years.
She also liked reading literature and history and often had intellectual discussions with her brother Murlin over books they read.
Imogene loved traveling especially with her husband Lawrence. They traveled hundreds of thousands of miles over 49 states and many provinces in Canada. They returned to Thayer and resumed working in their final business, a fabric store.
She was a devoted and loving wife, mother and grandmother and will truly be missed by all who had the privilege to know her.
Funeral services for Imogene Porter will be held on Friday, June 15, 2018 at 2:00 PM at the Carter Funeral Home Chapel in Thayer with Brother Bill Bales and Brother Gerald Bounds officiating.
The family will receive friends on Thursday, June 14, 2018 from 6:00 PM to 8:00 PM at the Carter Funeral Home in Thayer, Missouri.
Interment will be in the Thayer Cemetery with services under the direction of Carter Funeral Home, Inc. in Thayer.