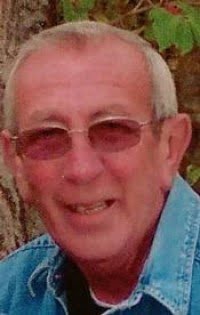 Hubert Lee "Hoot" Cochran was born the son of George "Rufe" and Alma (Pressley) Cochran on November 15, 1938, in Koshkonong, Missouri, and departed this life May 18, 2013 at Lincoln County Medical Center in Troy, Missouri, at the age of 74 years.
Hoot attended Koshkonong schools along with his brothers and sister. He was united in marriage on May 16, 1964 to Reta Lois Underwood, who preceded him in death on November 9, 1986. To this union was born one son, Michael. He was again united in marriage on September 4, 1993 to Mary Lou Ledbetter Wieman, and became a step-father to Ed, Lynn, and Kevin. Mary Lou also preceded him in death on December 15, 2007.
He is survived by his son, Michael Cochran and companion, Laura Davis of Moscow Mills, Missouri; three step-children, Ed Wieman and wife, Donna of Troy, Missouri, Lynn Peine and husband, Mark of Troy, and Kevin Wieman and wife, Carol of Troy; two brothers, Larry Cochran and wife, Nadine of West Plains, Missouri, and Charles Cochran and wife, Christine of Koshkonong, Missouri; one sister, Kathleen Rogers and husband, Garrel of Koshkonong; 13 grandchildren; 4 great-grandchildren; many nieces and nephews; other relatives and friends.
He was preceded in death by his parents, Rufe and Alma; his first wife, Reta; his second wife, Mary Lou; two brothers, infant, George and Harold.
Hoot worked at McDonnell-Douglas, now Boeing, for over 30 years as an inspector. He was always the life of the party, and enjoyed camping, gardening, playing washers, and horseshoe tournaments.
Hoot will be remembered as a loving father and grandfather, a wonderful brother, a fun-loving uncle, and a loyal friend. He will truly be missed by all who knew him.
Funeral services were Friday, May 24, 2013 at 10:00 AM in the Carter Funeral Home Chapel at Thayer with Brother Richard Robinson officiating. Burial was in the Thayer Cemetery with services under the direction of Carter Funeral Home, Inc. in Thayer.