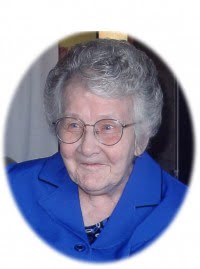 Elizabeth Hope Combs was born the daughter of Ralph Taggart Hoyt and Ethel E. Frost Hoyt on December 16, 1912 at Thayer, Missouri and departed this life April 8, 2011 in Thayer, Missouri at the age of 98 years.
She was united in marriage May 22, 1939 in Couch, Missouri to Gordon Combs, who preceded her in death August 28, 1985.
She is survived by three children, Wade Combs and wife, Pat of Springfield, Missouri, Katherine Mandel of St. Louis, Missouri and Dale Combs and wife, Deborah of Couch, Missouri; five grandchildren, Jeffrey Roesel of New Orleans, Louisiana, Laurie Wisdom of Columbia, Missouri, Donna Crow of Springfield, Missouri, Kimberly Combs of Louisville, Kentucky and Bethany Underwood of West Plains, Missouri; nine great grandchildren, Jonathan, Katherine, Patrick and Sophie Roesel, Elizabeth and Connor Wisdom, Anthony Cooper and Maddux and Holden Underwood; several nieces, nephews, other relatives and many friends.
She was preceded in death by her parents, Ralph and Ethel Hoyt; her husband, Gordon Combs; one infant son, William Combs; two brothers, Ard and David Hoyt and two sisters, Jane Wetzel and Ruth Hoyt.
Hope was a 1930 graduate of Couch High School and a member of the first graduating senior class. She worked at the Garment Factory in Thayer Missouri for many years and was a member of the International Ladies Garment Workers Union.
She was a faithful member of the Garfield Free Will Baptist Church for more than 70 years. Hope's love of the Lord was her strength and she lived her life as a testimony to her faith. She lovingly taught her children of his love and leaves them a priceless example of the life of a Christian lady.
She will truly be missed by her family, her friends and the community in which she lived.
Funeral services will be Monday, April 11, 2011 at 2:00 PM in the Carter Funeral Home Chapel at Thayer with Brother David Honeycutt officiating. Burial will be in the Arytown Cemetery with services under the direction of Carter Funeral Home, Inc. in Thayer.