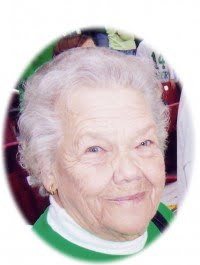 Helen Odessa Stith Allen was born the daughter of Grover F. Stith and Bessie Guy Stith on December 25, 1928 at Koshkonong, Missouri and departed this life April 28, 2011 in Thayer, Missouri at the age of 82 years.
She was united in marriage October 8, 1946 in Salem, Arkansas to Archie Earle Allen, who preceded her in death November 18, 2003.
She is survived by one sister, Emma Jean Stith of Thayer, Missouri; six children, Dane Allen and wife, Patricia of Nixa, Missouri, Dian Hensley of Nixa, Missouri, Lark Allen of Columbia, South Carolina, Lana Armstrong and husband, Ernie of Mammoth Spring, Arkansas, Harvey Allen and wife, Marcia of Thayer, Missouri and Mike Allen and wife, Sharlet of Thayer, Missouri; ten grandchildren; Eric Allen, Matthew Allen, Aaron Hensley, Andrew Hensley, Bradley Armstrong, Bevely Bailey, Nickolas Allen, Jordan Reed, Mikayla Allen and Jadyn Allen; seven great grandchildren; several nieces, nephews, other relatives and many friends.
She was preceded in death by her parents; her husband; one granddaughter, Karmon Hensley; two sisters, Thelma Pressley and Evelyn Hatfield and two brothers, Floyd and J.F. Stith.
She was a well-known and respected business lady, working as a real estate broker for Strout Realty for many years before opening her own office, Allen American Realty in Thayer.
Helen enjoyed cattle farming, gardening, fishing and even cutting firewood. Her passion was her family and she will be remembered as a devoted wife, mother, grandmother, great grandmother and sister. She was a faithful member of the Thayer Church of Christ and will truly be missed by her family, friends and the community in which she lived.
Funeral services will be Saturday, April 30, 2011 at 2:00 PM in the Carter Funeral Home Chapel at Thayer with Shawn Deree officiating. The family will receive friends Saturday from 1:00 PM until time of service. Burial will be in Koshkonong Cemetery with services under the direction of Carter Funeral Home in Thayer.