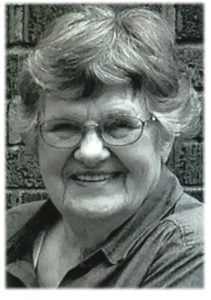 Helen Louise Halcomb was born the daughter of William Guy Rogers and Madge (Bell) Rogers on July 6, 1925, in Kansas City, Missouri and died on May 7, 2017, in St. Louis, Missouri, at the age of 91 years.
She was united in marriage on November 9, 1957, at Savannah, Missouri to Odis Clifford Halcomb, who preceded her in death on October 17, 2002.
She is survived by two sons, Ron Kircher and wife, Rosie of Springfield, Missouri and John Halcomb of Arlington, Texas; one daughter, Lora Halcomb Wilson and husband, Mark of St. Louis, Missouri; two grandchildren, Jennie Halcomb of Austin, Texas and Cole Wilson of St. Louis, Missouri; one brother, Ralph Rogers and wife, Betty of West Plains, Missouri; two nieces, Linda Ward and Marla Rogers; other relatives and many friends.
She was preceded in death by her parents, Guy and Madge Rogers; her husband, Clifford Halcomb and two nephews, Jerry and Keith Rogers.
She was a member of Gambrill Gardens Church in Ellisville. Missouri.
Louise was an active person. She served as Vice-President of the Residential Council and was a member of the Welcoming Committee where she lived. Louise loved being a mom and grandmother. She enjoyed volunteer work, reading, sewing, history, music, collecting family photos and spending time with family and friends.
She will be sadly missed by her family and many friends.
Funeral services for Helen Louise Halcomb will be held Thursday, May 11, 2017 at 2:00 PM at the Carter Funeral Home Chapel in Thayer.
Visitation will be Wednesday, May 10th at the funeral home from 6-8 PM.
Burial will be in Shiloh Grand Gulf Cemetery with services under the direction of Carter Funeral Home in Thayer.