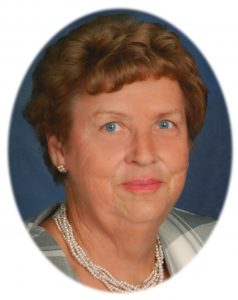 Hazel M. Drye was born the daughter of Hayde Dills and Winnie (Daily) Dills on November 1, 1935 in Thayer, Missouri and died September 14, 2016 in West Plains, Missouri, at the age of 80 years.
She is survived by her husband, Billy of the home in Thayer, Missouri; one daughter, Cindy Drye Botard and husband, Elton of Thayer, Missouri; one granddaughter, Samantha Whiteside and husband, Devin of Tulsa, Oklahoma; four great grandsons, Christian, Cole, Conner and Camden Whiteside of Tulsa, Oklahoma; one sister, Marie Russell; and several nieces, nephews, other relatives and many friends.
She was preceded in death by her great granddaughter, Chloe Joy Whiteside; her parents, Hayde and Winnie Dills; two brothers, Clyde Dills and Bennie Dills; and one sister, Helen Robinson.
Hazel worked in several jobs throughout her life. She started her career as a bookkeeper at an advertising company in Kansas City. She then kept the books of Eder Oil Company of which she and Billy were co-owners. After selling Eder Oil Company, she sold real estate for Century 21. In addition, she worked side by side with Billy on their farm.
Hazel loved gardening, fishing and hunting. She also enjoyed oil painting and was involved in many other hobbies and activities.
She was a Christian and a member of the First Baptist Church in Thayer, Missouri where she faithfully attended as long as health permitted.
She was truly a loving wife, mother, grandmother, great grandmother, sister and friend and will be missed by all that knew her.
Funeral services will be held at the Carter Funeral Home Chapel, Thayer, Missouri on Friday, September 16, 2016 at 2:00pm.
Visitation will be Thursday, September 15 from 7:00 to 8:00pm.
Burial will be in Thayer Cemetery.