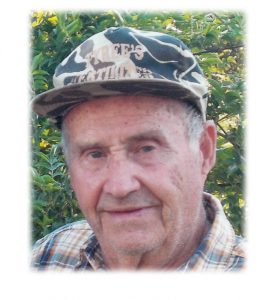 On February 22, 2018 Harvie Forrest Leonard went "Home" to be with the Lord!
Harvie was born June 30, 1932 to Jim and Mary Leonard at Damascus, Arkansas.
On October 30, 1952 Harvie was married to the love of his life Mable, a marriage of 60 ½ years setting good examples for all.
In 1972 they moved to their home west of Caulfield, Missouri with their two sons. Harvie was known as a kind, hard working man, who loved his family greatly. One "we" could always count on to be there in all things. Along with spending time with family Harvie enjoyed his farm, cattle and deer hunting. He especially loved spending time with his grandkids and talking of his childhood and life with his great grandkids Izabela and Gavin, which often led to laughter and a question of "For really?"
Harvie is survived by two sons, Lewis and wife Cynthia of Chelon, Washington and Tom and wife Vickie, grandson Coley and wife Wendy, grandaughter Marissa and husband Jerry Pearson, great grandaughter Izabela, great grandson Gavin, all of Caulfield, Missouri; granddaughter Melodie and husband Josh Sell of London, England; two brothers, Glenn and Billy, and two sisters, Faye and Ann, along with a large extended family.
He is preceded in death by his wife Mable; his parents; three brothers and one sister.
Funeral services for Harvie will be under the direction of Carter Funeral Home, Inc., West Plains.
Due to the privacy respects for the family,  service information will not be on this page.