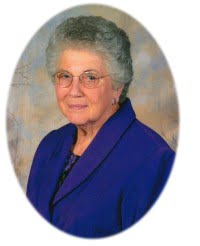 Frances Marie (Williams) Sanders was born the daughter of Marvin Elza Williams and Eva May (Combs) Williams on August 27, 1927, in Couch, Missouri, and departed this life on June 3, 2016, at Shepherd's View Assisted Living in Alton, Missouri, at the age of 88 years.
She was united in marriage on March 29, 1944, at Pocahontas, Arkansas, to Carl Franklin Sanders, who preceded her in death on December 29, 1982.
She is survived by her daughter, Dianne Lawrence and husband, Jim of Couch, Missouri; her grandson, Jeff Lawrence and wife, Sandy of Couch; two great-grandchildren, Jake Lawrence and wife, Mindy of Thayer, Missouri, and Sara Sorrell and husband, Anthony of Springfield, Missouri; three great-great grandchildren, Mya, Jarrett, and Shyann, all of Thayer; two sisters-in-law, Ruth Williams of Van Buren, Missouri, and Jessilee Sanders of West Plains, Missouri; two nephews, Edward Sanders of Memphis, Tennessee, and Allen Sanders of Alton, Missouri; one niece, Donna (Sanders) Hayes and husband, Mike of West Plains; three great-nephews, Brian, Mark, and Nathan Sanders; one great-niece, Courtney (Sanders) Smith; one aunt, Louise Combs; several cousins; other relatives, and a host of friends.
She was preceded in death by her parents, Marvin and Eva Williams; her husband, Carl Sanders; her brother, Waldo Williams; father-in-law, Robert Sanders, Sr.; mother-in-law, Vertie (Russell) Sanders and step mother-in-law, Minnie (Baker) Sanders; two brothers-in-law, Oren Sanders and Robert Sanders, Jr.; one sister-in-law, Vesta Sanders; a dear friend, Malcolm German; several uncles, aunts, and cousins; and many classmates, neighbors, and friends.
Frances was a graduate of Alton High School with the class of 1945. She and local classmates retained a very close relationship and looked forward to attending the Alton Alumni Meeting together each year.
She was a farm lady, working faithfully along side her husband, Carl on their dairy and beef cattle farm, until his untimely death at the age of 60. Frances continued operation and management of the farm with assistance from her family and other young men in the community until her retirement. She was a hard worker, and strived to fulfill her goal of maintaining a successful farming operation. Above all, she enjoyed living on her favorite hill on the family farm in Oregon County.
After retirement, Frances enjoyed working in her garden, growing beautiful flowers, cooking, especially her famous apple pie, and traveling. Excitement would grow as each travel date approached for pending trips aboard travel buses with new found friends or the numerous shopping trips and shared birthday dinners with good friends.
She was a Christian and a long-time member of the Garfield Free Will Baptist Church, where she faithfully attended and enjoyed studying God's Word, singing gospel songs, and the fellowship of friends and neighbors.
Even as she struggled with the trials of her illness, her faith never wavered as she faced each day with courage, determination, and grace.
She was affectionately given several different names throughout the years such as mom, grandma, grandma Frances, Miss Frances, Francie, and even old man Frances by those who loved her and knew her best.
Frances loved her family and was so proud to be blessed with the fifth generation. She will be remembered as a dedicated wife, mother, and grandmother and a loyal friend and neighbor. She will be missed by her family, friends, her Shepherd's View family, and the community in which she lived.
Funeral services will be held Sunday, June 5, 2016, at 2:00 PM at the Carter Funeral Home Chapel in Thayer, Missouri, with Brother Keith Combs, Brother Jake Lawrence, and Brother Richard Robinson officiating.
The family will receive friends Saturday evening from 6:00 until 8:00 PM at the funeral home.
Burial will be in the Thayer Cemetery with services under the direction of Carter Funeral Home, Inc. in Thayer.
In lieu of flowers, memorial contributions may be made to the American Cancer Society or Gideon's International and may be left at the funeral home.