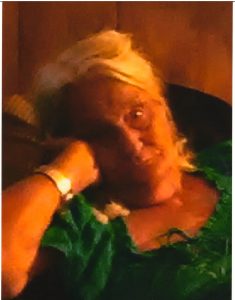 Florence Elizabeth Stewart was born in Mt. Morris, Michigan, the daughter of Donald and Lovina Easlick, on August 6, 1933, and left this world at her home in Doniphan, Missouri, on July 12, 2018, at the age of 84 years.
She was united in marriage on November 5, 1955 in Flint, Michigan to Roy Stewart, who preceded her in death on May 29, 2015.
Florence is survived by seven children, Fern Cotter and husband, Keith of Lansing, Michigan, Della Jentzen and husband, Brian of Lake City, Michigan, Fay Moore and husband, James of Pocohantas, Arkansas, and Wilma Stewart, Doris Garcia, Robin Allison and Wesley Stewart, all of Doniphan, Missouri; one brother, Frank Easlick, Sr. of Kings Mountain, Michigan; one sister, Laura Robbins of Blacksburg, South Carolina; numerous grandchildren, great grandchildren, great great grandchildren, and great great great grandchildren; other relatives; and many friends.
She was preceded in death by her parents, Donald and Lovina Easlick; her husband, Roy Stewart; one son, Roy C. Stewart Jr.; two sisters, Edith Monroe Dennis and Mae McClure; and two brothers, Donald Mark Easlick, Jr. and Richard Monroe.
Florence was a Christian and a member of the Community of Christ. She loved studying her Bible.
She enjoyed working in crafts of all kinds. Florence was especially known for her embroidery.
She was a loving mother and grandmother and will be truly missed by her family and all those who knew her.