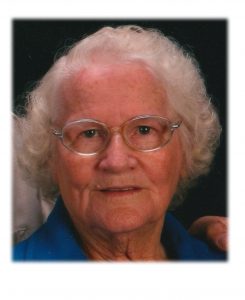 Ethel Mae Risner was born the daughter of Fred Phillips and Cyntitha (Jewell) Phillips on February 28, 1924, in Koshkonong, Missouri, and departed this life on December 14, 2016, in Salem, Arkansas, at the age of 92 years.
She was united in marriage on January 21, 1941 in Fulton County, Arkansas, to Frandell Risner who preceded her in death on December 4, 2010.
She is survived by two sons, Gary Risner and wife, Linda of Mammoth Spring, Arkansas, and Ronnie Risner and wife, Brenda of Mammoth Spring, Arkansas; two grandchildren; eight great granchilldren; one great great grandchild; two sisters, Minnie Bell Risner of Belle Plaine, Iowa, and Cecil Marie Young of Little Rock, Arkansas; several nieces and nephews; and a host of friends.
She was preceded in death by her husband, Frandell Risner; her parents, Fred and Cyntitha Phillips; one daughter, Janice Carol Davis; two grandchildren; and one sister, Gladys Powell; and one brother, Howard Phillips.
She was a Christian and attended Clifton Free Will Baptist Church in Thayer, Missouri.
Ethel received her education at Big Rock School in Fulton County, Arkansas. She worked for ten years at the shirt factory in Salem as an inspector, but she spent most of her life as a homemaker.
She was an excellent cook and liked to cook for her family and friends. She was an avid gardener and enjoyed canning green beans and other vegetables.. She will truly be missed by her family and many friends.
Funeral services for Ethel M. Risner will be held Friday, December 16, 2016 at 2:00 PM at the Carter Funeral Home Chapel in Thayer, Missouri, with Brother Darrell Mitchell officiating.
The family will receive friends on Thursday, December 15, 2016 from 6:00 PM until 8:00 PM at the Carter Funeral Home Chapel in Thayer. Missouri.
Burial will be in Shiloh Grand Gulf Cemetery under the direction of Carter Funeral Home in Thayer.