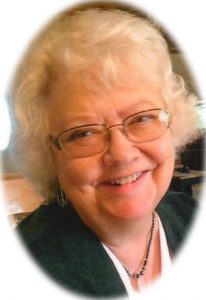 Elsie May (Armstrong) Holman was born the daughter of Van Buren Armstrong and Martha Priscilla (Cozort) Armstrong on January 9, 1939, in Mammoth Spring, Arkansas, and departed this life May 31, 2016, at Cox South Hospital in Springfield, Missouri, at the age of 77 years.
She was united in marriage on January 27, 1956, in Chicago, Illinois, to Bob Holman, who preceded her in death on March 15, 2002.
She is survived by four daughters, Vanessa Leah Farkas and husband, Patrick of Rogersville, Missouri, Malisa Lynn Boring and husband, Tony of Seymour, Missouri, Teresa Leann Latham of Nikiski, Alaska, and Lesa Linnea Ehret and husband, Steve of Thayer, Missouri; six grandchildren, Jody Holman, Brian Brashear, Boyd Brashear, Bobby Latham, Jon Ehret and Chelsea Ehret; eight great grandchildren; two sisters, Geneva Smith of Mammoth Spring, Arkansas and Veneda Dillard of Pontiac, Michigan; one brother, David Armstrong of Kansas; and many nieces, nephews, cousins, and friends.
She was preceded in death by her parents, Van Buren and Martha Armstrong; her husband, Bob Holman; four sisters, Wilma Cherry, Nadine Smith Jeanette Romine and Thelma Armstrong; and two brothers, Cloyse Armstrong and Pete Armstrong.
Elsie was a member of the Thayer Church of Christ and attended as long as health permitted.  She was a seamstress and worked in garment manufacturing.  She was a farm wife and was also an avid gardener.
Elsie will truly be missed by her family and all who knew her.
Funeral services were held, Saturday, June 4, 2016 at 11:00 AM at the Carter Funeral Home Chapel in Thayer with Shawn Deree officiating.