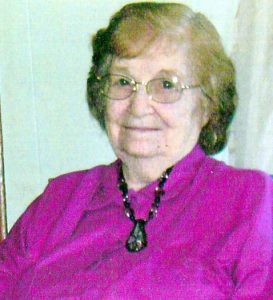 Ellouise Morton died Tuesday, June 13, 2017 at the National Health Care Nursing Home in West Plains, Missouri.
She was born October 5, 1926 in Dora, Missouri to Homer and Dorothy Warren Luna.
She was united in marriage September 26, 1942 to Jimmie Birdsong, who preceded her in death.
She is survived by sons, Jerry Birdsong and Jarrett Birdsong and wife Donna; sister, Rozelle Partida; brother, Bernie Luna and wife Wanda; granddaughters, Sherrie Taylor, Cindy Thompson, Julie Clark, and Rachelle Caraway, and Kari Leroy; five great grandchildren, and many friends.
During WWII she was a piston inspector at the Pratt and Whitney Factory in Kansas City. Many remember her as a cook in the Dora School cafeteria.
She enjoyed her artwork and everyone was glad to receive her handmade cards. She gave art classes to nursing home patients in Carlsbad, New Mexico.
She is preceded in death by her parents; three husbands; sons, Gerald Birdsong and Rickey Birdsong; sisters, Nadine Luna and Maxine Collins, and brothers, Clifton and Norman Luna.
She was a lifelong member of the Church of Christ and attended the Ball Church whenever she could.
Church services for Ellouise Morton will be held Saturday, June 17, 2017 at 10:00 a.m. at Ball Church of Christ in Dora, Missouri, with Brother David Shipley officiating, under the direction of Carter Funeral Home, Inc., West Plains.
Visitation will be held Friday, June 16, 2017 from 7:00 to 9:00 p.m. at Carter Funeral Home Chapel, West Plains.
Burial will be at Ball Cemetery, Dora, Missouri, under the direction of Carter Funeral Home, Inc., West Plains.