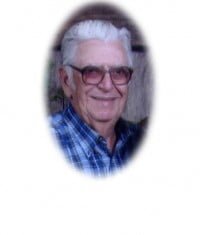 Edwin Cecil Wiggs, born February 19, 1931 in St. Louis, Missouri, the son of Leamon Smith Wiggs and Lavetta Irene (Vincent) Wiggs, left his earthly home September 12, 2011 at the age of 80 years.
He was united in marriage to Nella McKee on October 6, 1956 by his father, Leamon Wiggs, at the family home in Alton, Missouri. This union was blessed with two sons.
He is survived by his wife, Nella of the home in Alton, Missouri; sons, Maurice Wiggs and wife, Beth and Stacey Wiggs, all of Alton, Missouri; grandchildren, Nicholas Wiggs and Carrie of Thayer, Missouri, Tiffany Miller and husband, Jared of Republic, Missouri, Alex Wiggs of Moberly, Missouri and Adam Wiggs and fiancee', Sandra of West Plains, Missouri; great grandchildren, Cameron, Tristan, Lainey and Zane; sisters, Freda Dunkin and husband, Hanford of Bellflower, Missouri and Ruth Berry and husband, Bill of O'Fallon, Missouri; several nieces and nephews and a host of extended family and friends.
He was preceded in death by his parents, Leamon and Lavetta Wiggs and sisters, Eleanor Dodson and Cecelia Pingleton.
Edwin was a Veteran of the United States Army, serving his country during the Korean War, earning the rank of sergeant. During his deployment, he operated heavy equipment building roads for troops and often was under fire while performing his duties. His service was from February 5, 1952 through November 4, 1953.
After his military service, Edwin found a career with General Motors in St. Louis, Missouri. He was a dedicated employee, retiring as a foreman after 30 years. After retirement from General Motors, Edwin returned to Alton, where he operated a farm and back-hoe business. Later he and his son, Maurice, built, owned and operated Spare-time Bowling.
He was of the Baptist faith, a member of the Alton Masonic Lodge No. 255, AF and AM and a life-time member of the NRA.
Ed will be remembered for the many enjoyable hours he spent visiting and serving others throughout his lifetime.
Funeral services will be Friday, September 16, 2011 at 1:00 PM in the Bailey Chapel Church near Alton with Brother Robert Wiggs officiating. The family will receive friends from 11:00 AM until service time at the church. Burial will be in Bailey Cemetery with services under the direction of Carter Funeral Home, Inc. in Thayer.