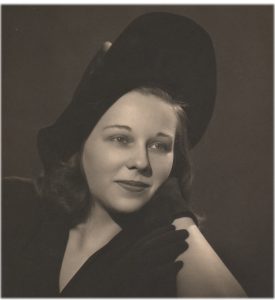 Until the shadows lengthen and the evening comes and the busy world is hushed, the fever of life is over and our work is done. Then in Thy mercy grant us a safe lodging and a holy rest and peace at the end.
Dorothy Ellis
Dorothy (Woolford) Ellis was born on June 13, 1920 in Koshkonong, Missouri. She is preceded in death by her parents, Fred and Allie (Guy) Woolford; by her husband, Dr. C.H.(Claude) Ellis of Thayer; and by her beloved younger brother, Bill Woolford.
She is survived by her beloved daughter, Kay Ellis, of Thayer. She is also survived by her two nieces, Terrie (Woolford) Sanders of Grain Valley, Missouri and Karen (Woolford) Givens of Corpus Christi, Texas.
Dorothy was involved in politics on the county, state and national level most of her life. She was most proud of her 14 years as Oregon County Commissioner.
As an environmentalist, she was known for her help in establishing the Irish Wilderness as a federally protected wilderness area. One of her proudest accomplishments was when the Grand Gulf became a reality as a Missouri State Park. In 1984 the Department of Natural Resources presented her with the Resource Steward Award. She was also given the Sol Feinstone Award for individual conservation activism. Dorothy served on numerous boards and committees throughout her life, fighting for the causes that were dear to her.
She was an avid reader and thrived on the beauty of nature that she celebrated each day. Dorothy was of the Methodist faith, but experienced her God and spirituality each day in the natural beauty and in her many cherished friendships and relationships that surrounded her.
Visitation and a celebration of her life with friends will be held on Tuesday, November 15, from 10 a.m. to 1 p.m. at the Carter Funeral Home in Thayer, followed by burial and a brief graveside service at 1 p.m. at Thayer cemetery.
In lieu of flowers, contributions may be made to the charity of your choice or to St. Jude Children's Research Hospital. St. Jude donations can be made on line or can be left at the Carter Funeral Home of Thayer or West Plains.
" I am grown peaceful as old age tonight. I regret little, I would change still less." – Robert Browning