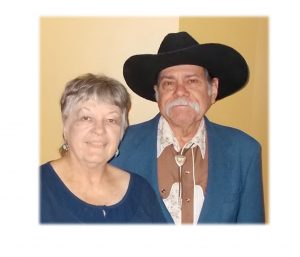 Donald Chamernik, 69, and his loving wife Louise Alice (Gust) Chamernik, 72, of West Plains, Missouri were united in marriage on October 5, 1977 and after 38 short years, left this life together on January 29, 2016, following a tragic auto accident in the same city in which they lived.
Don was born on September 2, 1946 in Chicago, Illinois. He studied vocational arts in college where he picked up the drafting, framing, electrical, and plumbing skills he later used to build each house in which he and Lou lived.
He was a craftsman, biker, and good friend to any who would give him more than a couple minutes to bend their ear. He had a ready smile (and mischievous smirk) and was always willing to lend a helping hand to those who were lucky enough to know him. If he couldn't be found tinkering or socializing you can bet he was with Lou on his Harley, looking for open road and a couple free cups of coffee.
Lou was born on June 7, 1943 in Waukegan, Illinois, and graduated from Waukegan High School. She was a creative young woman who loved sewing, pottery and crafts of all types. Though she enjoyed her many hobbies throughout life she went on to hone her sewing skills to make fantastic quilts, which she loved to gift to friends and family.
She loved life and often surrounded herself with it in the form of her gardens and the many animals she so cherished. Her caring and compassionate nature was apparent in her need to nurture, whether it was her sons and daughter or her dogs and goats.
They are survived by three children, Jodi Hodges and husband, Shane of Raymore, Missouri, Aaron and Adam Chamernik of Springfield, Missouri; two grandchildren, Trae and Maci Hodges of Raymore, Missouri; brother and sister-in-law, Gerald and Beverly Gust of Waukegan, Illinois; one niece and several nephews.
They were preceded in death by Donald's parents, Peter and Emilie Chamernik; Louise's parents, Alex and Tillie Gust; one son, Kipper Boswell; and Louise's sister and brother-in-law, Virginia (Gust) and Charles Payson and nephew, Tim Payson.
Donald and Louise were unique and wonderful people and will truly be missed by all their friends and loved ones.
Memorial services for the couple will be held at 2:00 p.m., Saturday, February 13, 2016, at the Carter Funeral Home Chapel, West Plains, Missouri.