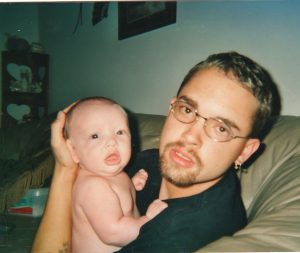 Derek Scott Bailey came into this world earlier than expected on December 3, 1984 at 6:04 am. He was one half of a whole. He weighed a mere 3 pounds, 2 ounces. He met the challenge of being born early and small, the way he met every challenge in his life … with strength and faith in the Lord.
Derek spent his childhood outside. Derek loved being in nature and that is what made him the happiest. He would fish and draw. He would turn over rocks looking for bugs and snakes, most of the time successfully. He loved all animals, from baby birds to snakes and everything in between. He was constantly bringing home rescued animals to care for. Derek was kind, and loving to everyone he met. His best friends in this life were mainly cousins, as family was very important to Derek. Derek took each tragic death in his family hard, and grieved greatly.
Derek met each day with beautiful, big, brown eyes, softly spoken words, and a million watt smile. He would light up every life he touched. Derek left this world the way he came into it, earlier than expected on January 11, 2017. Derek was a beloved grandson, son, father, nephew and uncle. His grandparents were the late Charles C. and Mary Bailey. He was the nephew of James and Terry Bailey and the son of Sherri L. Bailey (Neal), all of Mammoth Spring, Arkansas. Derek was the father to a little piece of Heaven named, Michael Scott Bailey, who was born on April 26, 2004 at 1:14 pm.
Funeral services will be held Saturday, January 14, 2017 at 2:00 PM at the Carter Funeral Home Chapel in Thayer, Missouri with Randy Livingston officiating.
The family will receive friends on Saturday, January 14, 2017 from 1:00 PM until service time at Carter Funeral Home in Thayer, Missouri.
Services are under the direction of Carter Funeral Home in Thayer.