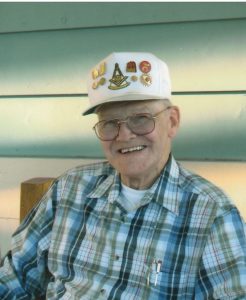 David Nelson Frealy was born the son of Eugene Stanley Frealy and Maggie Faye (Tyner) Frealy on October 17, 1929 in Doniphan, Missouri, and departed this life on December 7, 2016 at his home in Thayer, Missouri, at the age of 87 years.
He was united in marriage on February 22, 1957 in St. Louis, Missouri to Jacqueline Ann Vivian.
He is survived by his wife, Jacqueline Ann Frealy, of the home in Thayer, Missouri; seven children, Deborah Lundry and husband, Everett, Glennon Frealy and wife, Brenda, Linda Frealy, Donald Frealy, Kathryn Weiss and husband, James, Barbara Mustion and husband, Terry, and Stanley Frealy and wife, Lanette; twelve grandchildren; six great grandchildren; and one brother, Bob Frealy.
He was preceded in death by his parents, Eugene and Maggie Frealy; one grandchild, Austin James Frealy; four brothers, Eugene, Austin, Bill and Jackie Frealy; and four sisters, Mary Lou Tourigny, Faye Frealy, Betty Scharff and Alice Frealy.
David was drafted into the U.S. Army where he served in Korea and was a two time recipient of the Purple Heart. After resigning from the Army, David enlisted with the U.S. Air Force. He was in the Air Force until he retired after over twenty years of service.
After his military service, David operated a sawmill, making various wood products, for over thirty years.
David was very involved in the Masons. He was a member of the Clifton Masonic Lodge in Thayer. He was a charter and life member of the Omar Temple of the Shrine in Charleston, South Carolina. He was also a member of both the Scottish and York Rites. For many years, he performed the funeral rites for fellow Masons.
David was a member of the Sacred Heart Catholic Church in Thayer, Missouri.
He was always charitable to both friends and strangers. In the last few years, his greatest joy was spending time with his grandchildren and great grandchildren.
He will be remembered as a loving and devoted husband, father, grandfather and great grandfather.
Funeral Mass was held on Saturday, December 10, 2016 at 10:00 AM at the Sacred Heart Catholic Church in Thayer, Missouri with Father Shoby M. Chettiyath officiating.
The family received friends on Friday, December 9, 2016 from 6:00 PM to 8:00 PM at the Carter Funeral Home Chapel in Thayer. Masonic funeral rites were conducted during the visitation.
Burial was in the Koshkonong Cemetery in Koshkonong, Missouri.
The family requests donations to the Shriner's Children's Hospital in David's honor.