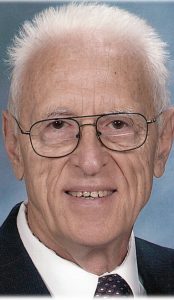 David Henry Hill, son of the late Reverend A. B. Hill and Esther L. Wilcox Hill, was born May 20, 1932 in Santa Paula, California and died May 31, 2017 at his home in West Plains, Missouri.
He was united in marriage on June 1, 1953 to Josie Willadean Watts in Pocahontas, Arkansas.
He is survived by his wife Josie Willadean Hill; three sons, Paul James Hill and wife Teresa; Thomas Bealfred Hill and wife Sandy; Timothy Dale Hill and wife Karen; one brother, James Hill and sister, Evelyn Marshall; twelve grandchildren, Matthew Hill, Joshua Hill, Sharon DeVore, Sarah Dillon, Rachel Keiss, Michael Hill, Mary McCallister, Andrew Hill, Allegra Hill, Chase Briscoe, Alexandria Briscoe, and Brooke Briscoe, and ten great grandchildren, Violet Hill, Justice Hill, Henry Hill, Catherine Hill, Titus Dillon, Troy DeVore, Emry DeVore, Adalyn DeVore, Cass Hill, and Penelope Hill.
He is preceded in death by his parents, Rev. A. B. Hill and Esther Lois Wilcox Hill; one son, Daniel Hill, and one sister, Doris Marshall.
Services for David Henry Hill will be held on Saturday, June 3, 2017 at 2:00 p.m. at Carter Funeral Home Chapel, West Plains.
Visitation will be held on Saturday, June 3, 2017 from 12 o'clock noon until time of service at 2:00 p.m.
Burial will be at Oak Lawn Cemetery, West Plains, under the direction of Carter Funeral Home, Inc., West Plains.