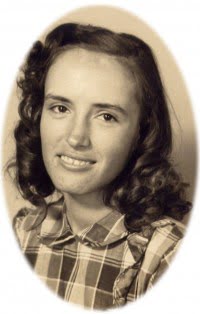 Daisy Marie Tilley was born the daughter of Herman Matthews and Ethel Strong Matthews on October 21, 1934 in Broadwater, Missouri and departed this life September 18, 2011 in West Plains, Missouri at the age of 76 years.
She was united in marriage on March 15, 1964 in Malden, Missouri to Elmer Tilley, Jr., who preceded her in death on April 1, 2008.
She is survived by three children, Glenda Yates and husband, Ron of Thayer, Missouri, Michael Tilley of Mammoth Spring, Arkansas and William Earl Tilley of Mammoth Spring, Arkansas; two grandchildren, Michaela Tilley and J.J. Yates; one brother, Leo Matthews of Herculaneum, Missouri; several nieces, nephews, other relatives and many friends.
She was preceded in death by her parents, Herman and Ethel Matthews; her husband, Elmer Tilley, Jr.; one infant grandchild; two brothers, Earnie and Robert Matthews and one sister, Linda White.
Daisy enjoyed gardening and cooking. She was a dedicated homemaker, a devoted caregiver and housekeeper, a loving baby sitter and was known by many children as "Grandma Daisy."
Mrs. Tilley was a faithful member of the Christian Tabernacle Church at Hardy, Arkansas and enjoyed teaching the Children's Sunday School Class throughout the years. She will be remembered as a kind and caring person, a loving mother and grandmother and a friend to all. She will truly be missed by all who knew and loved her.
Funeral services will be Saturday, September 24, 2011 at 10:00 AM in the Carter Funeral Home Chapel at Thayer with Brother Jason Jackson officiating. The family will receive friends Friday, September 23rd from 6:00 to 8:00 PM at the funeral home. Burial will be in the Eagles Rest Cemetery near Hardy, Arkansas with services under the direction of Carter Funeral Home, Inc. in Thayer.