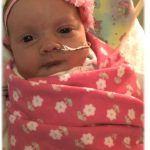 Chloe Joy Whiteside received her ultimate healing on May 5, 2016. After struggling for five weeks, she passed gently from the arms of her loving parents to the arms of Jesus.
While Chloe's life seems far too short to many, she taught us more in her five weeks on this earth than many accomplish in a lifetime. Chloe Joy's life helped us realize each day is truly a gift to be cherished and an opportunity to be a light for others.
Chloe Joy is the answer to the prayers of her mother as her birth was awaited with joyful expectation. During her brief visit on earth she enjoyed being held and cuddled by her parents and being kissed and snuggled nonstop by her adoring older brothers, who loved helping her choose from her many bows. Chloe had an angelic face that melted the hearts of all who were blessed to know her.
Chloe Joy is the daughter of Devin and Samantha Whiteside of Jenks, Oklahoma. Survivors also include her brothers, Christian, Cole, Connor, and Camden; grandparents, Elton and Cindy Botard, Sam and Billie Rhoades and Don and Brenda Whiteside; great grandparents, Bill and Hazel Drye; aunt and uncle, Leslie and Jeremy Allen; and many other aunts, uncles and cousins.
Graveside services were held on May 16, 2016 at Thayer Cemetery with Brother Jared Russell officiating.