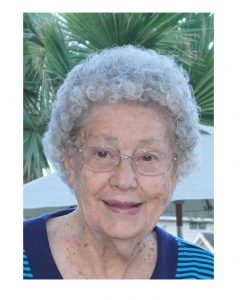 Graveside services for Charlene D. Fite, 92, West Plains, Missouri, will be held at 1:00 p.m., Saturday, October 7, 2017, at State Line Cemetery, under the direction of Carter Funeral Home, Inc., West Plains.
She was born the daughter of the late Charles and Ethel McBee, on August 18, 1925 in Jerome, Arizona and died September 29, 2017 in Little Rock, Arkansas.
On June 20, 1945 she married a rancher, Charles B. Fite in Mountainair, New Mexico, who preceded her in death March 17, 2003.
The couple moved cattle and horses by train to a ranch near Lanton, Missouri in March of 1952. Once in the area, the Fites were instrumental in establishing Glenwood School.
She is survived by three children, Walter Fite and his wife Pamela, Missouri City, Texas; Richard Fite and his wife Bonnie, West Plains, Missouri, and Saundra Cunningham, Neosho, Missouri; one brother, James McBee, Farmington, New Mexico; nine grandchildren; many great grandchildren and several great great grandchuildren.
She was preceded in death by her parents; her husband, and two sisters, Merle Jones and Faye Vick.
Charlene was a devoted wife, loving mother, who loved cooking for and serving the family. She lived her life as a Christian with an unshakable faith in God. She loved playing piano for church services and working with youth groups.
Burial will be in State Line Cemetery, Fulton County, Arkansas, under the direction of Carter Funeral Home, Inc., West Plains.