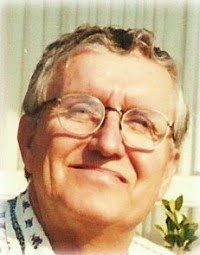 Cecil Loyd Grooms was born to Sam Lloyd Grooms and Mildred Janie (Greer) Grooms on October 17, 1935 near Whitten, Missouri, along Eleven Point River. He departed this life on April 9, 2012 in West Plains, Missouri at the age of 76 years.
Cecil graduated from Couch High School in 1953. Following graduation, he moved to St. Louis for a time. While there away from home, he met the girl he would later marry. He was united in marriage on July 3, 1954 in Alton, Missouri to Opal Marie Dodge. Opal preceded him in death on March 4, 1989.
Following their marriage, Cecil and Opal moved to Kansas City, Missouri, where they lived for twenty-two years. Cecil spent four years in sheet metal apprenticeship school. Upon graduating, Cecil began working for W.C. Wiedemann and also taught night classes at the sheet metal apprenticeship school for several years. On March 7, 1963, Cecil and his partner, Gordon Wright, incorporated what would become his proudest achievement—Barnes and Dodge Sheet Metal, Inc. His business provided him with a lifetime of stories and experiences to share with those around him.
At age 27, Cecil was diagnosed with multiple sclerosis and told he would not walk for very many more years. At that time, little was known about this disease of the nervous system. In 1976, Cecil decided it was time to leave the city and his business, and take his family back to Couch, Missouri. He and Opal built a life and a home on their farm twice in Couch. Cecil found fulfillment working on the farm with the cattle and in his shop. Also because of this move back to the country, Cecil was able to spend time working alongside his dad, Sam, until he passed away. He would later also lose his wife, Opal, in 1989.
In 1991, Cecil was united in marriage to Dorothy (Whiteside) Grooms at the farm in Couch. For the next twenty years, he would be sure all those around him knew of his love for Dottie.
Throughout his life, Cecil worked tirelessly both in his work and in being a teacher to those around him. He could always be found trying to find a better way to do or make something. His unbelievable determination made him both successful and kept him moving when the MS was telling him he could not. From building his own business, his battle with MS, and fighting those around him who told him to slow down, Cecil became the strongest willed person some will ever meet.
He is survived by his wife, Dorothy "Dottie" Grooms of the home in Thayer, Missouri; three children, Brian Lloyd Grooms of North Kansas City, Missouri, Stuart Dodge Grooms and wife, Georgia, of Gladstone, Missouri, and Melisa Gwen Daily and husband, Travis, of Marshfield, Missouri; two step-children Mickey Fisher and husband, David, of Springfield, Missouri, and Kelley Richards and husband, Stanley, of Branson, Missouri. Cecil is also survived by eight grandchildren, Kevin Grooms of Manhattan, Kansas, Eric Grooms of Gladstone, Missouri, Casey Cornelius of Springfield, Missouri, Jared Daily of Marshfield, Missouri, Rachel Brown of West Plains, Missouri, Joel Baca of Branson, Missouri, J.D. Zogg of Michigan, and Jennifer Gonyier of League City, Texas; six great grandchildren; five sisters and one brother, Nadine Crase of Alton, Missouri, Annette Johnson of Alton, Missouri, Jarutha Mullen of St. Peters, Missouri, Joe Grooms and wife, Sharon, of Morley, Missouri, Rebecca Meyer and husband, Dan, of Union, Missouri, and Sally McCallum and husband, Bruce, of Ballwin, Missouri.  Cecil is also survived by numerous nieces and nephews.
Cecil was preceded in death by his parents, his wife and mother of his children, Opal, one brother, Bennie Grooms, one stepson, John Zogg and three brothers-in-law, Neal Crase, Russell Johnson and Jim Mullen.
He was a member of the St. Paul Methodist Church in Thayer, Missouri. Cecil was also a Mason, a Gideon, and served on the Oregon County Soil and Water Conservation District Board as treasurer for sixteen years.
The memories Cecil provided to those who loved him will live on forever in his absence. May the strength he showed in life be given to those weakened by their loss.
Funeral services will be Saturday, April 14, 2012 at 2:00 PM in the Carter Funeral Home Chapel at Thayer. The family will receive friends Friday, April 13 from 6:00 to 8:00 PM at the funeral home. Burial will be in the New Salem Cemetery at Couch with services under the direction of Carter Funeral Home, Inc. in Thayer.
In lieu of flowers, the family request contributions be made in his memory to the Couch FFA Alumni and left at the Carter Funeral Home or mailed to the funeral home at P.O. Box 175, Thayer, Missouri 65791.