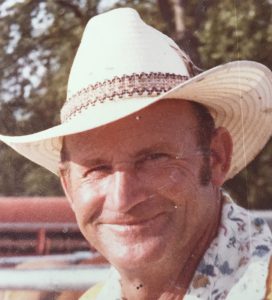 Funeral services for Buddy (Bud) Gene Mayberry, 81, Pomona, Missouri, will be held Wednesday, October 5, 2016 at 11:00 a.m. at the Carter Funeral Home Chapel, West Plains, with Reverend Steve Fowler officiating, under the direction of Carter Funeral Home, West Plains.
He was born the son of the late Herbert Mayberry and Carrie Bilyeu Mayberry, on September 22, 1935 in Mt. Vernon, Missouri and died October 1, 2016 in West Plains, Missouri.
He is survived by four children, Wayne (LeAnn) California, Missouri, Alesia (Steve) Billings, Montana, Anita (David) West Plains, Missouri, Shane (Anna) Willow Springs, Missouri; nine grandchildren, Heath (Vannessa) and Aaron of California, Missouri, Carrie, Zakariah, and Autumn of Billings, Montana, Mark (Ashley) Custer, Montana, and Dakota (Rachel), Ethan, and Samantha of Willow Springs; five great grandchildren, and several nieces and nephews and great nieces and nephews.
He was preceded in death by his parents; one son, Buddy Mayberry; three brothers, Glen, Joe, and Bob Mayberry; two sisters, Gladys and Grace.
Bud had a love for and knowledge of horses and cattle from an early age. This is evidenced by his many awards in FFA and local and state fairs during his teen years.
He was well known in the rodeo circuit for well over 50 years. He began his rodeo career as a bareback bronc rider and rodeo clown. During that time he also trained and shoed horses. Few people know, but in his twenties Bud also raced a stock car – sometimes thrilling the crowd with his crazy antics.
In 1963 Bud began buying horses and bulls – gradually building up bucking stock. Then he began conducting his own rodeos as a Rodeo Stock Contractor. He was instrumental in helping to develop and served on the board of rodeo associations such as Missouri Rodeo Cowboy Association. Over the years Bud has been honored with numerous rodeo awards locally, regionally, and nationally. He retired and sold most of his stock around 2008.
After his retirement, he still enjoyed sipping on truck stop coffee, telling stories to his friends, and he had a soft spot for his children and grandchildren.
Memorial contributions may be made to the Mayberry Cemetery Association and can be left at the funeral home.
Visitation will be Tuesday, October 4, 2016 at Carter Funeral Home Chapel, West Plains from 7:00 to 8:00 p.m.
Burial will be in Mayberry Cemetery, Highlandville, Missouri around 2:30 p.m., under the direction of Carter Funeral Home, Inc., West Plains.