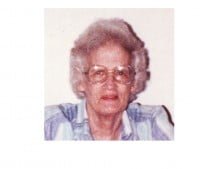 Funeral Services for Bonnie Jo "Nichols" Mulvaney, Mountain View, Missouri, will be held at 10:00 a.m. on Saturday, November 26, 2011, at Carter Funeral Home Chapel, West Plains, with Pastor Greg Richardson officiating, under the direction of Carter Funeral Home, Inc., West Plains.
She was born the daughter of the late Alfred Nichols and Ola Lynch Nichols, on August 13, 1923 in Thomasville, Missouri and departed this life November 21, 2011 at the age of 88 years, 3 months, and 21 days at Mountain View Health Care.
She was united in marriage November 8, 1947 in Kansas City, Missouri, to Thomas W. Mulvaney, who preceded her in death December 12, 1987.
She is survived by three children, J.T. Mulvaney and wife, Tana, Festus, Missouri, Mary Jo Graves of Newport, North Carolina, and Pat Mulvaney, wife, Joni, Winona, Missouri; seven grandchildren, Tiffany Norris, Randy Mulvaney, Scott Mulvaney, Shane Mulvaney, Stephanie Megahan, Jake Long, and Ben Livingston, and sixteen great grandchildren.
She was preceded in death by her parents; her husband; one son, Charles "Butch" Mulvaney; three brothers, Wade, Lester, and Gene Nichols, and two sisters, Dottie Goodman and Mary Davidson.
Bonnie retired at the age of 70 from the Birch Tree Nursing Home after twenty years. She enjoyed cooking and listening to her country music, especially her Hank Williams Sr. She loved spending time with family and friends. Bonnie was one of a kind, and will be deeply missed by all who knew her. We will see her again some day. Mom and grandma, we love you dearly; now you are home with your beloved son, Butch.
Visitation will be held Friday, November 25, 2011 from 6-8 p.m. at Carter Funeral Home, Inc., West Plains.
Burial will be in Woodside Cemetery, Thomasville, Missouri, under the direction of Carter Funeral Home, Inc., West Plains.