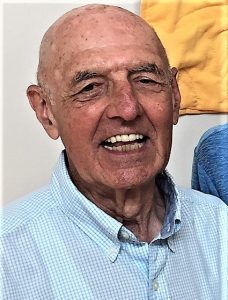 Bill Davis Williams was born in West Plains, Missouri, the son of Rolland Williams and Fae Davis Williams on November 19, 1933, and departed this life on October 20, 2018, at Cox South Hospital in Springfield, Missouri, at the age of 84 years.
He was united in marriage to Carlene Young in Marshfield, Missouri, on May 29, 1955. They spent more than 60 devoted years as husband and wife.
He is survived by his wife, Carlene Williams of the home in Thayer, Missouri; one son, Mark Alan Williams and wife, Amy, of Bethesda, Tennessee; and two grandchildren, Garrett Williams, attending Southern Methodist University and Brennen Williams, attending University of Pittsburgh; other relatives and countless friends.
He was preceded in death by his parents, Rolland and Fae Williams; and one daughter, Barbara Dea Williams.
Bill was a Christian and a long time member of the St. Paul United Methodist Church.
He was a retired Lieutenant Colonel of the Missouri National Guard and a First Lieutenant of the United States Army, serving his country proudly for many years.
Mr. Williams was best known for being a newspaper editor, publishing the Thayer News for many years. He was also a past president of the Missouri Press Association.
Bill loved being a part of his community, serving in many different clubs and organizations. He was a long time member of the Thayer-Mammoth Spring Rotary Club and was a Paul Harris Fellow. He was a member of the American Legion Post 344, in Thayer and a Military Honors bugler. He was a member of the Thayer Housing Board and a Mason and member of the Clifton Lodge.
Bill's favorite hobby was to "walk and talk." He loved taking strolls all around town and would stop to talk to anyone he could. He was deeply devoted to his family and friends. Bill will truly be missed by his family, friends and the community in which he lived.
Funeral services will be held on Wednesday, October 24, 2018, at 11:00 AM at the Carter Funeral Home Chapel.
The family will receive friends on Wednesday, October 24, 2018 from 10:00 AM until service time.
Interment will be held at Thayer Cemetery in Thayer, Missouri with services under the direction of Carter Funeral Home, Inc., in Thayer.
In lieu of flowers, donations may be made in Bill's memory to Gideon's International or the charity of your choice.