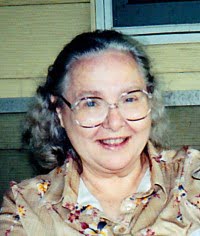 Alice Joyce Garrison, 78, daughter of the late Elias Thomson and Dorothy Redfield Thomson, was born January 6, 1934 in Oakland, California and entered into eternal rest February 18, 2012 at her home in West Plains, Missouri.
     Alice was married to Walter Martz in 1952 and had 4 children. She then remarried her surviving husband, Duleth (Duke) Garrison in 1975. Alice was a wonderful caring person who loved and touched everyone she met. She was a devoted wife, mother, sister, and grandmother. She was an accomplished poet, writer and photographer with many awards and recognitions for her work. Her 36 year journey with Duke expanded her interests to include prize winning jams, jellies and embroidery to which she delighted in entering in local fairs and contests. Her home on JJ was covered in photos and ribbons acquired over the years. No one who knew her could accuse her of any bias because anyone who was dear to her could be found on her walls of honor. Those that touched her life or she touched theirs could be found in her numerous photo albums. Alice as the matriarch of an extensive family has been the center of numerous conversations as "Grandma Duke" and she is best remembered by those as always having just enough time to send an article or news clipping from a magazine or news paper that she thought someone would like, and to add a short note in the margins to let that one person know she is thinking about them. She will be missed by all.
     Alice is survived by her husband, Duke Garrison; Sister, Esther Smith. Two Brothers; David and Lewis Thomson. Her four children, Steve Martz, Susan Thompson, Joyce French, Betty LaBoucane and two step daughters, Linda and Rosie. Additionally she was blessed with 17 grandchildren, 36 great grandchildren and 4 great great grandchildren. All of which span the continent and a few foreign countries.
     A Celebration Of Life will be held on March 24th, 2012 at 2:00pm in the West Vue Nursing Home Dining Facility.