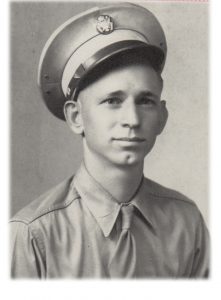 Funeral services for Oren Eugene Sanders, 92, of West Plains will be Monday, March 28, 2016 at 1:00 p.m. at Carter Funeral Home, West Plains.
Burial will be at Oak Lawn Cemetery.
Mr. Sanders passed away Wednesday, March 24, at Ozarks Medical Center in West Plains.
Mr. Sanders was born March 23, 1924 at Couch, Missouri, to Vertie Russell Sanders and Robert Jackson Sanders, Sr.
He attended school at the Garfield School and graduated with the
Class of 1942 at Couch High School, both in Oregon County.
After graduating from high school, he trained as a machinist and worked on his family's farm until he was inducted into the United States Army in 1943 proudly serving during World War II as a machinist. He liked to tell that during his military service he traveled around the world leaving New York City for France then Germany. He sailed through the Panama Canal on his way to the Philippines, then to Japan, and returning to the states at Seattle, Washington.
Oren Sanders married Ada Jessilee Stubblefield on September 21, 1946. They were to have celebrated 70 years of marriage this year. Their two children are Edward E. Sanders and Donna Sanders Hayes.
Mr. Sanders and his brother-in-law, Joe Stubblefield, owned and operated Sanders and Stubblefield Implement Company in Alton and West Plains from 1957'until he sold his interest in 1972. He was a proud JOHN DEERE man; his favorite tractor was his 1941 John Deere LA which he drove in many local parades. He was a charter member of the Early Days Gas Engine/Older Iron Club and was inducted into that organization's National Hall of Fame. Oren
and Jessie were active in the Veterans of Foreign Wars Post 1828. He was past president and also served on the Veterans Honor Guard presiding over dozens of military funerals. He had attended First Baptist Church of West Plains since 1964.
Mr. Sanders is survived by his wife, Jessie, West Plains; son Edward, Memphis, Tennessee; daughter Donna and her husband Mike Hayes, West Plains; grandsons Brian Sanders and wife Amanda of Ft. Worth, Texas, and Mark Sanders of Wichita, Kansas; and great grandchildren Brittany and Ross Sanders of Ft. Worth. He is also survived by step-grandchildren Andrew, Elizabeth, Taylor and Haydn; sisters-in-law Frances Sanders and Wilda Stubblefield; two nieces and two nephews.
He is preceded in death by his parents Vertie Sanders and Robert Sanders, Sr. and his step-mother Minnie Sanders; two brothers Carl Sanders and Robert Sanders, Jr.; sister-in-law Vesta Sanders and brother-in-law Joe Stubblefield. Also preceding him are his mother and father-in-law Albert and Myrtle Stubblefield, daughter-in-law Barbara Heinz Sanders, and one niece.
Visitation will be from 6 to 8:00 p.m., Sunday, March 27 at Carter Funeral Home, West Plains.
In lieu of flowers the family requests memorials to the First Baptist Church Food Pantry of West Plains or the New Salem Cemetery at Couch, Missouri. Memorials may be left at or mailed to Carter Funeral Home, West Plains.