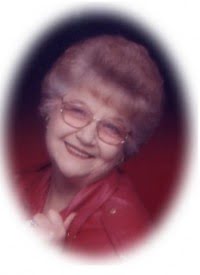 Zula Isabelle Peterson was born the daughter of Pank Hurst and Minnie Grubbs Hurst on February 6, 1925 in Mammoth Spring, Arkansas and departed this life on August 18, 2011 in Batesville, Arkansas at the age of 86 years.
She was united in marriage to Bernard Peterson who preceded her in death in October of 1982.
She is survived by one son, James Pulley and wife, Maxine of Bradford, Arkansas; four grandchildren, Phillip Wayne, Judith Kay, Julia Elizabeth and Tiffany Ann; eight great grandchildren, Autumn, Christopher, Adam, Daniel, Crystal, Dylan, Miranda and Chasity; eight great-great grandchildren; one sister, Mary Hutchinson of Pontiac, Illinois; several nieces, nephews, other relatives and many friends.
She was preceded in death by her parents, Pank and Minnie Hurst; her husband, Bernard Peterson; one granddaughter, Pamela Sue Pulley; three brothers, Johnny, Lewis "Nude" and Harold Hurst and three sisters, Ethel Downs, Lois Barrick and Julie Justus.
Zula was known for pride in her personal appearance, being an excellent homemaker and maintaining a clean and tidy house. She enjoyed gardening, soap operas, shopping and spending time with her family.
She was of the Baptist faith and will be remembered as a loving and devoted mother, grandmother and sister. She will truly be missed by her family and many friends.
Funeral services will be Monday, August 22, 2011 at 2:00 PM in the Carter Funeral Home Chapel at Thayer with Brother Wayne Hurst officiating. The family will receive friends Sunday, August 21st from 3:00 to 5:00 PM at the funeral home. Burial will be in the Hurst Cemetery near Mammoth Spring, Arkansas with services under the direction of Carter Funeral Home, Inc. in Thayer.