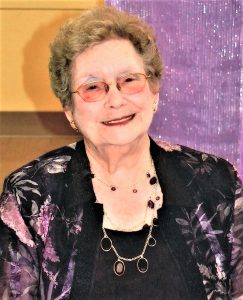 Wanda Lee Phenix was born in Leachville, Arkansas, the daughter of James Honnoll and Luna Higginbottom Honnoll on January 5, 1931 and departed this life on February 19, 2019 at Shady Oaks Healthcare in Thayer, Missouri, at the age of 88 years.
She was united in marriage to Loyd Phenix on November 9, 1949 in Walnut Ridge, Arkansas. He preceded her in death on February 22, 2008.
She is survived by her four children, Michael Phenix and wife, Sandra, of West Plains, Missouri, Freddie Bruce and husband, Chuck, of Myrtle, Missouri, Jackie Phenix and wife, Debbie, of Rogersville, Missouri, and Robert Phenix of South Fork, Missouri; one son-in-law, Eddie Cooper of Thayer, Missouri; two sisters, Venita Galpin of Warner Robins, Georgia, and Glendeen Barnett and husband, C.E., of Monett, Arkansas; eleven grandchildren; twenty-three great grandchildren; one great-great grandchild; many nieces and nephews; other relatives; and countless friends.
She was preceded in death by her husband, Loyd Phenix; her parents, James and Luna Honnoll; one daughter, Lateresa Cooper; and two brothers, James and Melton Honnell.
Wanda was a Christian and member of the State Line Pentecostal Church. She spent her life as a dedicated homemaker, taking care of her family and their home. She also worked in the Thayer area for twenty-two years, working for the Dutch Oven and Porter True Value.
She was well known for being an excellent cook, especially for her delicious, homemade chocolate pies. Wanda loved to crochet and made beautiful creations for her family and friends. She also enjoyed reading western novels. Wanda will be remembered as a loving and caring mother, daughter, sister and grandmother, and a friend to all. She will truly be missed by all that knew her.
A Funeral Service will be held on Friday, February 22, 2019 at 2:00 PM at the Carter Funeral Home Chapel in Thayer, Missouri with Brother Wayne Hurst officiating.
Family will receive friends on Friday, February 22, 2019 from 1:00 PM until the service time.
Interment will be held at the Thayer Cemetery following the services with arrangements under the direction of Carter Funeral Home, Inc. in Thayer, Missouri.