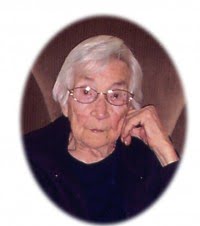 Verble Mauldin was born the daughter of Mason Watson and Nora Denny Watson on September 8, 1912 at Alton, Missouri and departed this life September 18, 2011 at Shepherd's View Assisted Living in Alton, Missouri at the age of 99 years.
She was united in marriage December 23, 1931 at Alton, Missouri to Thurman Mauldin, who preceded her in death on April 30, 1995.
She is survived by two daughters, Bonnie Johnson and husband, Wayne of Thomasville, Missouri and Barbara Johnson of Alton, Missouri; six grandchildren, Dennis Johnson and Chris of Thomasville, Missouri, Ruth Warren and Dennis of West Plains, Missouri, Randy Johnson and Hallie of West Plains, Missouri, Tommy Johnson and Laurel of Alton, Missouri, Paula Miller and Buck of Thomasville, Missouri and Nancy King and Mike of Alton, Missouri; twelve great grandchildren, twelve great-great grandchildren; other relatives and many friends and neighbors.
She was preceded in death by her parents, Mason and Nora Watson; her husband, Thurman Mauldin; son-in-law, Don Johnson; one granddaughter, Linda Diane Johnson and an infant sister, Emily.
She was a store clerk, working for Old Brothers Department Store and Wallace-Owens Grocery Store for several years.
Ms. Verble was never idle, always making the most of each day. She could be seen gardening, making soap, rendering lard, piecing quilts or just cooking a meal, hoping someone would stop by for a visit and a bite to eat. She will be remembered for her delicious chicken and dumplings and fried pies.
Verble was a lifetime and faithful member of Smyrna Free Will Baptist Church. She was a devoted wife, Mother, grandmother, friend and neighbor. She will truly be missed by her family, friends and the community in which she lived.
Funeral services will be Wednesday, September 21, 2011 at 1:00 PM in the Smyrna Free Will Baptist Church at Alton, Missouri. The body will lie in state at the church Wednesday from 11:00 AM until time of the service. Burial will be in the Smyrna Cemetery with services under the direction of Carter Funeral Home, Inc. in Thayer.
In lieu of flowers, contributions may be made to the Smyrna Cemetery Fund and left at the Alton Bank.