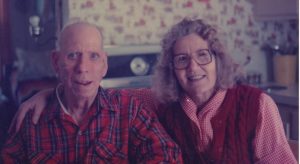 Velma Lois Rogers was born the daughter of Noel Martin and Mary Katherine Clark Martin on June 14, 1928 in Calico Rock, Arkansas, and departed this life February 23, 2018, in West Plains, Missouri, at the age of 89 years.
She was united in marriage on April 20, 1949, in Hardy, Arkansas to John Rogers, who preceded her in death on December 1, 1991.
She is survived by Mickey Parks of Mammoth Spring, Arkansas; one step-daughter, Reta Smith of Gillespie, Illinois; three brothers, Leon Martin of Mammoth Spring, Arkansas, Vernon Martin of Mammoth Spring, Arkansas and Earl Martin and wife, Ruth of Willow Springs, Illinois; several nieces; nephews; other relatives and many friends.
She was preceded in death by her parents, Noel and Mary Martin; one brother, Leland Martin; two sisters, Lorene Martin and Ruby Parmley; and one step-son, Franklin Coy Rogers.
Mrs. Rogers was a Christian and was of the Seventh Day Adventist faith.
Velma enjoyed being outdoors and had a great love for all baby animals. She enjoyed sewing and cooking, however, her favorite pastime was going to yard sales.
Mrs. Rogers will be missed by her family and all that knew her.
Funeral services for Velma Lois Rogers will be held Monday, February 26, 2018 at 2:00 p.m. at the Carter Funeral Home Chapel in Thayer.
The family will receive friends at the funeral home on Sunday, February 25th from 5 p.m. to 7:00 p.m.
Burial will be in Field Creek Cemetery, near Mammoth Spring, Arkansas, with services under the direction of Carter Funeral Home, Inc in Thayer.