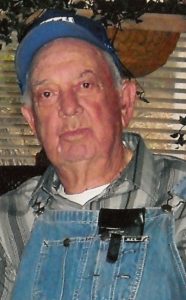 Funeral services for Troy Divelbiss, 91, Gepp, Arkansas, will be held at 2:00 p.m., Tuesday, December 27, 2016, at the Carter Funeral Home Chapel, West Plains, with Kevin Browning officiating, under the direction of Carter Funeral Home, West Plains.
He was born the son of the late Russell Divelbiss and Belle Cotter Divelbiss, on November 23, 1925 in Wagner County, Oklahoma and died December 24, 2016 at his home in Gepp, Arkansas.
He was united in marriage July 21, 1951 in Mountain Home, Arkansas to Mary Kathryn Womack, who preceded him in death July 29, 2010.
He is survived by three children, Randall Allen Divelbiss and wife, Pamela Sue, Gepp, Arkansas; Sandra Ellen Divelbiss Love and husband Randy, Viola, Arkansas, and Leon Johnson, Viola, Arkansas; eight grandchildren, Julia Hart, West Plains, Missouri; Blake Love and wife Amy; Carla Duncan and husband Jeremy; Brock Love and wife Stacey; Kelly Richardson and husband Bren; Brandon Love and Andrea; Jesse Johnson and wife Brandi, and Clay Divelbiss and wife Erlene, and eighteen great grandchildren.
He was preceded in death by his parents; his wife; one daughter, Linda Johnson-Hart, and four siblings, Glen Divelbiss, T.C. Divelbiss, Ruth Divelbiss, and Chloe Divelbiss Myers.
He was baptized at the Viola Church of Christ, where he was also a member. He was a farmer. He enjoyed spending time with his grandchildren and great grandchildren. He still lived in the same area where he resided for 91 years.
Troy will lie in state Tuesday, December 27, 2016 from 8:00 a.m. until time of service.
Burial will be in Hurst Cemetery, Fulton County, Arkansas, under the direction of Carter Funeral Home, Inc., West Plains.