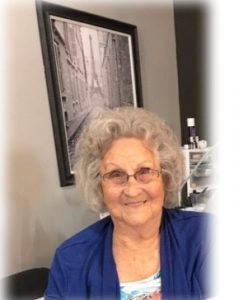 Ruby Lee Hollis was born the daughter of Otto Dowdy and Lourana Bell Dowdy on May 6, 1931, in Mammoth Spring, Arkansas, and died on September 5, 2017, in Thayer, Missouri, at the age of 86 years.
She is survived by one son, David L. Hollis and wife, Kim of Thayer, Missouri; six grandchildren, Lisa Honeycutt and husband, Steve of Thayer, Missouri, Sandy Salmon and husband, Jim of Mountain View, Missouri, Jason Hollis and wife, Kim of Bristol, Virginia, Jessica Dewitt and husband, J.T. of Paragould, Arkansas, Melanie Andrews of Cabot, Arkansas and Rodney Hollis of Beebe, Arkansas; twenty great-grandchildren; one brother, Johnny Dowdy and wife, Linda of Koshkonong, Missouri; one brother-in-law, Glen Hollis and wife, Wanda; one sister-in-law, Mary Tharp; several nieces and nephews; other relatives and a host of friends.
She was preceded in death by her parents, Otto and Lourana Dowdy; her husband, Leahmon Hollis; one son, Boyd R. Hollis; one daughter, Joyce Hollis Workman; one great granddaughter, Meghan Honeycutt; one brother, Jesse Dowdy; two sisters, Tressie Michaels and Lora Abney.
Ruby enjoyed being busy. She had several different occupations during her working years, which included working in the chicken plant in Mammoth Spring, Arkansas. She was a baker, baking beautiful wedding cakes for several years. She was a farmer and worked at McDonald's in Thayer until the age of 79 years.
She was a Christian and was of the Free Will Baptist faith.
Ruby enjoyed her garden, flowers, sewing and crocheting. She was an excellent cook and will be remembered for her delicious pies.
Even though Ruby was a busy lady, she always found time to cook a good meal and share with her family and friends. Her grandchildren and great grandchildren were special to her. She cherished each moment she was blessed to spend with them. She will truly be missed by all that knew her.
Funeral services for Ruby L. Hollis will be held Sunday, September 10, 2017 at 2:00 PM in the Carter Funeral Home Chapel in Thayer with Brother David Langston and Brother Darrell Mitchell officiating.
Burial will be in Thayer Cemetery with services under the direction of Carter Funeral Home, Inc in Thayer.