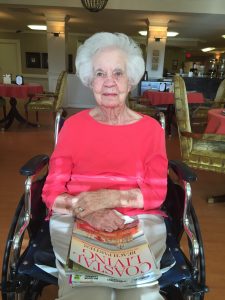 Nadine Bernice Armstrong, 93, of West Plains, Missouri, passed away on Friday, March 17, 2017. She was born in Bexar, Arkansas, on May 18, 1923, to Morrison and Myrlte Harris. After graduating from West Plains High School in 1940, she went to work for the Rural Electric Authority (REA). During that time, she received her pilot's license and quickly became notorious for flying under the Tecumseh, Missouri, bridge.
Nadine married Richard Alvin Armstrong in 1946 and was married 42 years until his death in 1988. Together they lived in Calico Rock, Arkansas, where they owned the Armstrong Drug Store, installing the pharmacy's first soda fountain in 1948. Subsequently, they returned to West Plains, Missouri, where Nadine raised three chidlren and began a career with the Division of Social Services. She decided to continue her education at the West Plains Residence Center, graduating from SMS in 1972. She was a field auditor for the Missouri Division of Employment Security where she retired after 26 years of service.
After her retirement, Nadine enjoyed playing golf where she achieved golf's ultimate prize, making a hole in one. She enjoyed reading to elementary school children and traveling with friends to Tunica. She was an avid reader. She loved to cook and took pride in her breads, rolls, pies and cakes. Most of all, she enjoyed and loved her grandchildren, Chase, Lauren, Annie and Tanner.
Nadine is preceded in death by her husband, Richard Alvin Armstrong; her daughter, Ann Harris Armstrong-Haren; and her brothers Junior Harris and Calvin Harris. She is survived by her son, Dick Armstrong of Indian Rocks Beach, Florida and his long term girlfriend, Bren Cook; her son David Amstrong and wife, Pamela, of Springfield, Missouri; her brother Jack Harris of West Plains, Missouri; four grandchildren, Chase Armstrong of Boston, Massachusetts; Lauren Armstrong-Levy of Murfreesboro, Tennessee; Annie Armstrong of Madrid, Spain; and Tanner Armstrong of Springfield, Missouri; and one great grandchild, Norah Levy. She is also survived by several nieces and a nephew, Allison, Meredith and Gary; sister-in-law, Louise Harris; along with her very special cousins, the Montgomery sisters, from Arkansas.
The family of Nadine would like to express their gratitude for the exceptional and compassionate care Nadine received at Morningside of Springfield. There will be a memorial visitation Thursday, March 23, from 5:30 to 7:00 at Carter Funeral Home, West Plains. A graveside service will be held at 11:00, Friday, March 24, at Oak Lawn Cemetery. In lieu of flowers, contributions can be made to the Bridges Program.