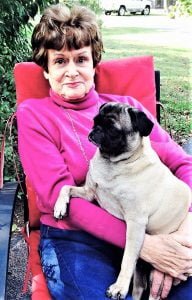 Maureen Cover Calvin was born in Downey, California, the daughter of George Martin and Vida Abrahams Martin on February 3, 1934 and departed this life on January 14, 2019 in West Plains, Missouri, at the age of 84 years.
She is survived by one stepson, George Cover; two step-granddaughters, Amanda Doth and Aimee Walton; many cousins; countless friends in California and Missouri; many devoted employees at Cover Lumber Company; and her special dog, Sydney.
She was preceded in death by her husband, Dan Cover; her parents, George and Vida Martin; and one brother, George Martin.
Maureen grew up on a ranch in Ramona, California. While growing up, she learned of her love for animals. After a family vacation trip to her Dad's family home in Thayer, Missouri, they decided to move to Missouri.
She graduated from Thayer High School where she was a majorette. After graduation, she returned to California where she worked for Catalina Swimsuit Company, working in the design department as well as modeling. She also worked for a dermatologist in Hollywood/Beverly Hills meeting many celebrities.
She returned to Thayer to care for her widowed father with the hopes of returning with him to California. Meanwhile, she met Dan Cover. They shared a common interest in the environment and decided to marry. They donated several farms to the Conservation Department.
Maureen loved and was devoted to her family, friends and employees. She will truly be missed by all that knew her.
Funeral Services will be held on Thursday, January 17, 2019 at 2:00 PM at the Carter Funeral Home Chapel in Thayer, Missouri.
Family will receive friends on Thursday, January 17, 2019 from 1:00 PM until the service time.
Interment will be held at the Thayer Cemetery in Thayer, Missouri.
Arrangements are under the direction of Carter Funeral Home, Inc. of Thayer, Missouri.