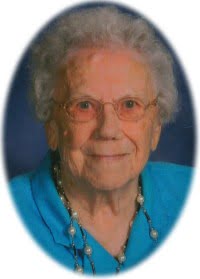 Mattie Estes was born the daughter of Jesse Isaac McHenry and Emily Rosetta (Pulley) McHenry on May 25, 1915, in Saddle, Arkansas, and departed this life May 19, 2016 in Salem, Arkansas, at the age of 100 years.
She was united in marriage on October 29, 1938, at Agnos, Arkansas, to William Estes who preceded her in death on June 19, 1995.
She is survived by one brother, William Isaac McHenry of Raymore, Missouri; many loved and cherished nieces, nephews, other relatives, and a host of friends.
She was preceded in death by her parents, Jesse and Emily McHenry; her husband, William Estes; two brothers, Curtis and Loyd McHenry; and five sisters, Gussie McHenry, Grace Hurtt, Agnes Mooney, Oletha Haney and Emily Shaver.
Mrs. Estes was a long time member of the Mammoth Spring Church of Christ. She enjoyed time spent with her family, quilting, and growing both vegetables and flowers in her garden. She was an excellent cook and was well known for her delicious pies and other pastries. She will be remembered by her family and friends as a kind and caring person. She will truly be missed by all.
Funeral Services were held May 22, 2016 at the Mammoth Spring Church of Christ at 2:00PM on Sunday. Burial at Saddle Cemetery