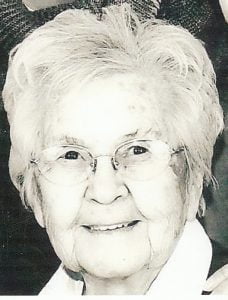 Maxine Tucker Hackett, 97, of Thayer, Missouri, died May 23, 2015.
Maxine, born May 24, 1917 in Couch, Missouri, was the daughter of Gilbert Winston Tucker and Mayme Crowell Tucker. She was a graduate of Couch High School and worked at Old Brothers Department store in Thayer. She married Dan Riley Hackett, Jr. on March 3, 1940. Shortly after her marriage, Maxine joined the First Baptist Church where she was an active church member. She was in the WMU, was the nursery director, worked with the youth group, was a Sunday school teacher, and was a church camp volunteer throughout her more than 75-year membership.
Maxine was descended from the Couch family and was interested in her family history. She was a member of the Oregon County genealogical and history societies. She loved to piece and quilt and belonged to the church quilting group. She was an avid gardener and a legendary cook. She was preceded in death by her husband Dan, brother Olon Tucker, sister Mertha Morgan, stepsister Helen Rhodes and great-grandson Tyler Simer.
She is survived by two daughters; Katherine (Lloyd) Best of Thayer and Jane (Kenneth) Romines of St. Louis; five grandaughters, Margaret (Danny) Simer of Mountain Home, Arkansas, Suzanne (Greg) Langley of Thayer, Elizabeth Romines, Katherine (Geoffrey) Littleton, and Emily Romines of St. Louis; 5 great-grandchildren, Jessica (Jonathan) Smith, Sam (Annalise) Simer, Madeleine Littleton, Gigi Littleton, and Riley Mullgardt.
Three great-great grandchildren; Bailey McGuire, Ethan Simer, and Jenner Smith.
A memorial celebrating Maxine's life will be held on Wednesday, May 27 at 2:00 pm at the First Baptist Church in Thayer, Missouri.
In lieu of flowers, gifts may be given to The First Baptist Church, Thayer, Missouri.