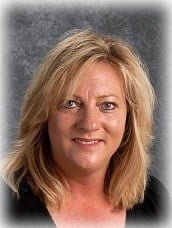 Lisa LaDonna Rogers was born the daughter of Jack Howell and Becky (Haney) Howell on July 5, 1967, in Salem, Arkansas, and departed this life September 14, 2015, in Thayer, Missouri, at the age of 48 years.
She was united in marriage at Mammoth Spring, Arkansas, on October 10, 1986, to Earl Rogers.
She is survived by her husband of twenty-eight years, Earl Rogers of their home in Thayer, Missouri; one daughter, Keeley Rae Rogers of the home in Thayer; her parents, Jack and Becky Howell of Mammoth Spring, Arkansas; her father and mother-in-law, Buddy and Mary Rogers of Thayer; one sister, Lorna Avery and husband, Dennis of Mammoth Spring, Arkansas; one niece, Trista Botchway and husband, Seth of Jonesboro, Arkansas; two nephews, Alan Avery and wife, Dawnisa of West Plains, Missouri, and Matthew Avery and wife, Brietta of Winterhaven, Florida; five great nieces and nephews, Alex, Axton, Edmund, Sawyer, and Tenley, other relatives and many friends.
Lisa was a graduate of the Mammoth Spring High School, graduating with the class of 1985. She was an exceptional athlete, free throw shooter and basketball player, earning many awards throughout her high school career. She earned a Bachelors Degree in Elementary Education from Missouri State University in Springfield, Missouri. Lisa began and continued her teaching career of educating, loving, and nurturing children in the Thayer Elementary School for a total of twenty-five years, retiring in the 2014-2015 school year.
She was an avid reader, enjoyed the beauty of nature as she took brisk walks, and treasured time spent with Earl and Keeley on their family trips.
Lisa was a member of the Thayer Church of Christ where she worshipped with her church family and enjoyed singing gospel hymns.
Lisa had a zest for life, a special love for children, and always surrounded herself with close friends and family. Even as she struggled with the trials of life, her faith never wavered and she was confident God, her family, and friends would always be there with their love and support.
Her warm soul and sweet spirit charmed the hearts of many as she fought her battle with determination, grace, and dignity. Her unconditional love and inspiration will never be forgotten by her family, friends, and all who knew and loved her.
Funeral Services will be Wednesday, September 16, 2015, at 2:00 PM at the Thayer Church of Christ in Thayer, Missouri, with Shawn Deree officiating.
The family will receive friends Tuesday evening, September 15th, from 6:00 until 8:00 PM at the Carter Funeral Home Chapel in Thayer.
Burial will be in the Thayer Cemetery at Thayer, Missouri, with services under the direction of Carter Funeral Home, Inc. in Thayer.