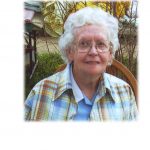 Memorial services for Laverne Thompson, 87, West Plains, Missouri, will be Saturday, October 1st at 2:00 pm, at the Carter Funeral Home Chapel, West Plains, with officiants Elder Jairus Yates, Reverend Ron Richardson, Justin Barnett, and Leat Stanley, under the direction of Carter Funeral Home, Inc., West Plains. There will be a visitation time starting at 1:00 p.m. until time of service.
She was born the daughter of the late William A. Napier and Grace E. Gulley Napier, on September 21, 1924 in Hutton Valley, Missouri and died September 24, 2011 in West Plains, Missouri.
She was united in marriage July 11, 1961 in West Plains, Missouri to Wayne Thompson.
She is survived by her husband of fifty years, Wayne Thompson, one sister, and two brothers.
She was preceded in death by her parents and three sisters.
She was a member of the Union Hill Community Church in West Plains. She worked for seventeen years at International Shoe Factory, eighteen years at Ozarks Medical Center, and volunteered for sixteen years after she retired from the hospital.
In lieu of flowers, Wayne requests donations be given to Host Shrine Club Crippled Children, or West Vue Nursing Center, West Plains, and can be left at the funeral home.