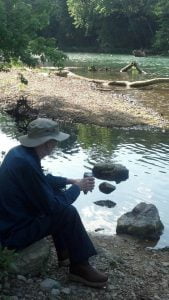 Jim R. Barton, 80, of Alton Missouri, passed away peacefully in his sleep on Christmas Eve, December 24, 2016 at his home.
Jim was born in Alton, Missouri on August 6, 1936. He was married to June Forester on April 19, 1957. They were married 36 years before her passing in 1993.
Jim was a farmer and worked in law enforcement. He was employed by Southwest Truck Body in West Plains, Missouri, working as a certified welder instructor, retiring after 35 years of service. He was instrumental in the Patriot Missile launcher redesign and development project during Desert Storm. He enjoyed the outdoors, gardening, fishing and being around family especially his grandchildren. Jim was gifted with his hands and loved to design and build small projects around his farm.
Jim is survived by his five children, Jimmie Barton, of Lohman Missouri, Jeff Barton, of Lohman, Missouri; Joey Barton and his wife, Rebecca of Gardner, Kansas, Penny Garrison and her husband, Keith of Springfield, Missouri; and Jamie Barton and his wife, Janine of Alton, Missouri. Survivors also include his half brother, Lynn Barton of Mammoth Spring, Arkansas; seven grandchildren; four great grandchildren; and several nieces and nephews.
Jim is preceded in death by his parents, Waymon Barton and Louise Barton Miller, as well as his sisters, Ann Cline and Laverne (Butch) Robbins; his half brother, Donald Miller; and one grandchild, Portia Barton.
The family would like to thank all the caregivers who took care of Jim over the last two years for their compassionate care.
Funeral services for Jim Barton will be held Wednesday, December 28, 2016 at 11:00 AM at the Carter Funeral Home Chapel in Thayer with Reverend Keith Garrison officiating.
The family will receive friends at the funeral home on Tuesday evening from 6-8 PM.
Burial will be in Bailey Chapel Cemetery in Alton, Missouri with services under the direction of Carter Funeral Home in Thayer.