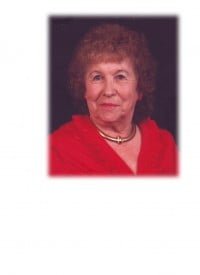 Funeral Services for Jean Cunningham, 93, West Plains, Missouri, will be held at 2:00 p.m., Thursday, February 23, 2012, at Carter Funeral Home Chapel, West Plains, with Pastor Brian Oswald officiating, under the direction of Carter Funeral Home, West Plains.
She was born the daughter of the late Columbus Birmingham and Ednar Gilliam Birmingham, on March 11, 1918 in Dowdy, Arkansas and died February 19, 2012 in Mountain Home, Arkansas.
She was united in marriage in California to Joe Roberts, who preceded her in death. She was later married on August 29, 1997 in Swifton, Arkansas to Bob Cunningham.
She is survived by her husband, Bob Cunningham, of the home, West Plains, Missouri; two daughters, Winnie May Hulen and Betty Miller; three step-sons, Rick Cunningham, Rob Cunningham, and Jim Cunningham; one sister, Wilma May Lee, and two brothers, Clay Birmingham and Truman Birmingham; four nephews, Tommy Lee, Darrell Birmingham, Jerry Lee, and Francis Birmingham; one niece, Tina Perrin; numerous grandchildren, great grandchildren, and great great grandchildren, and other family and friends.
She was preceded in death by her parents; her first husband; three sons, Lewis, J.D., and Billy Roberts;  five brothers, Vernard, Dale, Earl, Ulsus and Boyce Birmingham.
She was a Christian, being baptised at the age of fifteen years. She was a devoted wife, mother, grandmother, great grandmother, and great great grandmother, sister, aunt, and friend to many, and will be sadly missed by all who knew and loved her.
Burial will be in Howell Memorial Park Cemetery, Howell County, Missouri, under the direction of Carter Funeral Home, Inc., West Plains.